A short honeymoon is better than no honeymoon..
Planning a wedding can be one of the most exciting but yet stressful moments of your life.  At MH Bland Travel Services we want to remove some of that stress and help you both plan the best part of the wedding, which is of course; the honeymoon!
Planning a once in a lifetime honeymoon starts with choosing an exciting destination that matches your dreamy expectations of an ideal getaway.  But settling on a place you both  want to visit is not always easy.
To help get you started I have selected three of our most popular destinations and my top 2021 Honeymoon spots: 
1. Bali
In a honeymoon destination like Bali you can have the relaxing beachfront vacation of your dreams in Uluwatu…. or you can wake up in a private villa or suite high above the jungle in Zen, Ubud. Or perhaps you're looking to blow off some of that wedding-stress in the world-renowned party spots like the Gili Islands, Seminyak, and or Canggu.  Or maybe you guys want to get adventurous and dive with manta rays in Nusa Lembongan or hike the gorgeous coast of Nusa Penida. You can choose to spend your days sightseeing or adventuring, all whilst soaking up the rich Balinese culture. The choices are endless and it's all up to you.
When to visit:
The best time to visit Bali is between April and October, the island's dry season.
2. Thailand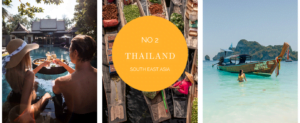 Travel east to Bangkok, the 'city of angels' from London and explore the non-stop, vibrant city.  The famous temples, night markets and golden Buddha's are just a handful of things to see.  After Bangkok consider catching a flight south to one of the many Thai beach destinations, Koh Lipe, Koh Phi Phi, Koh Pha Ngan, or Krabi to name just a few,  and put up those feet and relax.   To round off your trip, head to one of Thailand's many culturally rich destinations such as Chiang Mai or Chaing Rai where you will be spoilt for choice. Chiang Mai alone has over 200 temples, each with their unique charm
When to visit:
Thailand is a great year-round destination, but the best weather is usually between November and April. The climate varies between the east and the west coast. September brings the heaviest rainfall on the west coast, while the east coast gets its highest rainfall in November.
3. Maldives
Alternatively, you can lose yourselves in the turquoise lagoons, white sandy beaches and over-water villas that are dotted throughout the dreamlike honeymoon destination, known as the Maldives.  Island resorts offer honeymooners total relaxation and privacy.  The Maldives is one of the most romantic locations in the world. You need to experience it to believe it.  Choose an over-water villa, beach villa or romantic honeymoon suite … the choice really is yours.
When to visit:
There are distinct wet and dry seasons; peak season is between December and April when it's drier, hotter and less windy. Most travellers see this as the best time to go, but there are other factors to consider when choosing the time of year to travel here – like when to see specific marine life and when you'll find the best value offers.
"SHORT HONEYMOONS ARE BETTER THAN NO HONEYMOONS, BUT LONG HONEYMOODS ARE BEST OF ALL"
We understand that honeymoon expectations are high, that's why we tailor make your dream honeymoon, with as little or as many amendments needed until its perfect for you both. Nothing is too much trouble.
Myself and the rest of the team are here to help you kick start your long awaited honeymoon plans when you're ready.
Whether your looking to book a min-moon or a 3-4 week escape we can make your dreams become a reality, taking some of that stress off your shoulders allowing you to have more time to focus on your big day.
Start off by dropping us an email by ticking off our below honeymoon checklist – don't worry you can provide more than one destination! No answer is wrong!
Stay safe,
Myriam