Itinerary
Description
Inclusions
Exclusions
Gallery
Sail 8 days along the Danube River, onboard MS William Wordsworth (5-star ship) =in October 2023 visiting Vienne, Budapest and Salzburg. 
Day 1 Arrival in Budapest
Day 2 Esztergom
Day 3 Bratislava
Day 4 DÜrnstein & Melk
Day 5 Salzburg or Linz
Day 6 Vienna
Day 7 Budapest
Day 8 Return to UK
Itineraries
Day 1 (Embark)
Time : 12:00 am
Arrival in Budapest
You fly to Budapest, where a coach takes you to your cruise ship. The dedicated crew are there to welcome you on board, ensuring you settle in and familiarise yourself with this first-class floating hotel. There's always a sense of expectancy and excitement on the eve of a cruise and, after an excellent dinner in the stylish restaurant, conversation is sure to revolve around the delights ahead.
Day 2
Time : 12:00 am
Esztergom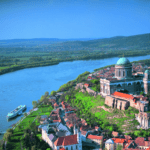 Overnight we have cruised upstream to Esztergom, one of Hungary's oldest towns, a royal capital during medieval times and today the seat of the country's archbishop.
Day 3
Time : 12:00 am
Bratislava
This morning we explore Slovakia's fast-emerging capital city, Bratislava, on a guided tour. Until recently swathed in the drab uniformity of Communism, the city has rekindled the splendour of its imperial past in its beautifully restored Old Town.
Day 4
Time : 12:00 am
DÜRNSTEIN & MELK
Durnstein is known principally for the ice-blue tower of its abbey, which dominates the view, and the castle where Richard the Lionheart was imprisoned in 1192 after being shipwrecked on his return from the crusades. This morning we take a guided walking tour to explore this memorable city further. Set on a rocky outcrop high above the river, the castle is now ruined, but it's easy to imagine England's legendary monarch seething with frustration far from home, while waiting for his family to raise funds to pay his ransom. After lunch you visit the remarkable Melk Abbey. Nothing quite prepares you for your first sight of this enormous honey-coloured building, standing resplendent above the surrounding countryside.
Day 5
Time : 12:00 am
Salzburg or Linz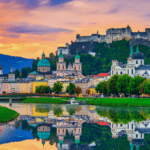 Reaching Linz, you will have the choice to stay in the city and take a guided walking tour, exploring its charming baroque old town. At its heart you'll see one of the finest squares in Austria, lined by grand pastel-coloured facades with an impressive central Trinity Column of white marble, crowned by a gilded sunburst. Please note lunch is not included on this full day excursion to Salzburg; however, the ship will offer a packed lunch. We return to the ship for another splendid dinner.
Day 6
Vienna
For many, today's visit to Vienna will be one of the highlights of the cruise. The city's very name provokes images of elegance, fine music, wide boulevards, Baroque architecture and a rich tapestry of peoples who were drawn here from all corners of Europe. This evening we've arranged truly the 'icing on the cake': You have the wonderful Captains Dinner and no visit to Vienna is complete without a live musical experience, so after dinner we have a classical recital on board.
Day 7
Budapest
Enjoy a leisurely morning as we cruise majestically through Hungary's peaceful pastoral landscape towards Budapest. After lunch we enjoy a sightseeing tour of this captivating city, which truly lives up to its reputation as the 'Pearl of the Danube'.
This evening's Gala Dinner closes with a Hungarian folklore show, giving you time to bid farewell to your travelling companions and reflect on all the inspirational places, sights and sounds you have experienced on a truly 'imperial' cruise.
Day 8
Return Home
Transfer to the train station or airport for your return flight to the UK.
Soak up all that Europe's most cultured river has to offer, with its wealth of grand baroque architecture, medieval cities, picture perfect towns and the sights that inspired Strauss and Mozart.  
Sail 8 days along the Danube River, onboard MS William Wordsworth (5-star ship) in October 2023 visiting Vienna, Budapest and Salzburg. 
Tour the most historic towns and cities along the Danube, including guided tours of Vienna, Dürnstein, Budapest and Bratislava.
Visit Esztergom Basilica and Melk Abbey.
Explore Salzburg or Linz with an expert guide on a tour of the town's most interesting sights.
Immerse yourself in the local culture with a Hungarian folklore show on board.
Enjoy a classical Live music performance on board with stunning views of Vienna.
Was £1649, now £1349 per person – Save £300
+ FREE drinks package worth £250
Included
Flights from London Gatwick – Budapest (return)
Budapest Airport Transfers
7 visits & tours
Full board from dinner on your day of arrival until breakfast on your final day; if you choose to travel with us on any of the full day excursions by coach, a packed lunch will be provided. Anyone choosing to stay on the ship may of course have lunch in the restaurant.
Morning/afternoon tea and coffee
Free drinks package worth £250
*Prices are per person, based on two people sharing a twin cabin with a limited number of sole occupancy cabins available on all decks, at the relevant supplement
We'll include a FREE 3-night tour extension in Budapest or Prague worth up to £599pp, when you book an upper deck cabin, deluxe or superior suite on The Blue Danube river cruise in October 2023.
Gibraltar to Budapest flights.