Overview
Trip Outline
Trip Includes
Trip Excludes
Gallery
Price
Pay homage at the Luxembourg American Cemetery. Uncover ancient Trier. Savor Moselle Rieslings and explore wine-rich Bernkastel-Kues. Cruise along Sankt Goar, Lorelei Rock's home, and the UNESCO-listed Rhine Gorge. Discover Worms and vibrant Heidelberg. Enchanting vineyards and historic cities, with hotel stays in Paris and Zürich, complete this compelling 12-day cruise tour. 
Selected dates in March – November 2024
From £3,245 pp
12 days
Ports of Call: Paris, France – Reims, France – Trier, Germany – Trier, Germany – Bernkastel, Germany – Cochem, Germany – Koblenz, Germany – Mainz, Germany – Speyer, Germany – Strasbourg, France – Basel, Switzerland – Zurich, Switzerland. 
Itineraries
Day 1
Paris, France
Welcome to Paris, the romantic French capital. Transfer from Charles de Gaulle Airport to your hotel for a 2-night stay. After check-in, seize the chance to explore the vibrant city freely or join our "welcome walk" for a refreshing stroll and orientation.
Day 2
Paris, France
Embark on today's tour with a scenic drive along the Seine River, passing iconic Parisian sites like Notre Dame Cathedral, the renowned Louvre, and Musée d'Orsay. Journey along Champs-Élysées, catching a glimpse of the Arc de Triomphe. The day is yours to further immerse in this timeless city: discover museums, wander Montmartre, or seek guidance from your Program Director for tailored recommendations. (Breakfast included).
Day 3
Reims, France & Trier, Germany
Today's itinerary includes a stop in Reims for lunch and a captivating visit to Reims Cathedral. We then proceed to the Luxembourg American Cemetery, a solemn tribute to those who sacrificed their lives in the WWII Battle of the Bulge. Our journey continues to Trier, where you'll board your ship. Savour a delectable dinner on board to conclude the day's explorations. (Breakfast and dinner provided).
Day 4
Trier & Bernkastel, Germany
Indulge in a morning exploration of Trier, Germany's ancient riverside gem on the Moselle. Marvel at the remarkably preserved Roman Porta Nigra gate, Trier Cathedral, and the Church of Our Lady. Following our shipboard lunch, relish the scenic Moselle cruise this afternoon. Our arrival in Bernkastel at dusk sets the stage for an evening stroll along charming cobblestone streets, or opt for a delightful wine-tasting adventure in this renowned vineyard area. (Breakfast, lunch, and dinner included).
Day 5
Cochem, Germany
Step ashore in the charming town of Cochem for an exploration of its captivating medieval ambiance and a visit to the thousand-year-old Reichsburg Castle majestically nestled on a hilltop. Discover the picturesque Moselle wine region, home to some of the world's most exquisite Rieslings cultivated on terraced hillsides. Dive into a wine-making legacy tracing back nearly 2,000 years to the Romans, with a stop at a local winery for an insightful tour and tasting. Return to your ship for a leisurely afternoon of cruising the Moselle's beauty.
Day 6
Koblenz, Germany
Embark on a captivating journey along the Middle Rhine, treating yourself to the beauty of the UNESCO-listed Rhine Gorge during a leisurely cruise. Immerse yourself in the history of Koblenz as you explore its enchanting streets, observing the confluence of the Rhine and Moselle Rivers. Glide past the peaceful village of Sankt Goar, which is graced by Rhinefels Castle, the Rhine's grandest fortress, and catch sight of the legendary Lorelei Rock, echoing the tale of the alluring siren who once beckoned sailors to her embrace.
Day 7
Mainz, Germany
Today, you'll reach Mainz, nestled in the heart of the Rhine's wine country. Discover the awe-inspiring Mainz Cathedral, a pinnacle of the Upper Rhine, characterized by its six soaring towers. Delve into the world of Johannes Gutenberg, the pioneer of movable type and printing, at the Gutenberg Museum. The assortment showcases exquisite books and intriguing printing innovations, even featuring a reproduction of Gutenberg's workshop.
Day 8
Speyer, Germany
Immerse yourself in the serene ambiance of Speyer, a tranquil German town situated on the western Rhine bank. Uncover the grandeur of its Romanesque imperial cathedral, a cornerstone of European architectural evolution. This UNESCO-designated World Heritage Site serves as the resting place for eight emperors, among them renowned Holy Roman Emperors. Meander through Speyer's captivating main street adorned with shops, and catch a glimpse of the imposing clock tower of the Altpörtel, the Gate to the Old Town.
Day 9
Strasbourg, France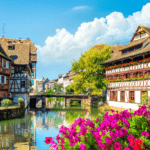 Explore Strasbourg, the cultural heart of Alsace, France, where the fusion of French and German influences thrives due to its border location. Wander through the immaculately conserved Petite France, embraced by the Ill River. Traverse cobblestone paths flanked by charming half-timbered dwellings and canals, with a cathedral stop. Immerse in Alsatian café traditions and consider a wine excursion to savour local flavours.
Day 10
Basel & Zürich, Switzerland
Conclude your journey in Basel, where modernity and tradition coexist, complemented by a vibrant arts scene. Explore the guild house-adorned Market Square and revel in the blend of Gothic, Renaissance, and baroque architecture. Travel onwards to Zürich, gracefully situated on Lake Zürich. As Switzerland's largest city, it frequently earns accolades as one of Europe's most liveable destinations.
Day 11
Zürich, Switzerland
Unveil Zürich through a guided city stroll and tranquil lake cruise. Amid your exploration, the distant snow-clad Alps dominate the horizon, mirrored in the serene waters. Behold the twin-spired Grossmünster, a Charlemagne legacy, adorned with Augusto Giacometti's stained glass. Across the Limatt River, the Fraumünster captivates with its green spire and Marc Chagall's choir windows. Following your walk, board a boat for a picturesque Lake Zürich tour.
Day 12
Zürich, Switzerland
Following breakfast, complete your hotel checkout and make your way to Zürich Airport for your homeward-bound flight. (Breakfast included).
1 complimentary shore excursion in every port of call
10 guided tours
Onboard gratuities
Wifi
 From £3,245 pp 
price correct at time of publication 18.08.2023