Overview
Trip Outline
Trip Includes
Trip Excludes
Gallery
Price
23rd October 2023
Embark on a luxurious voyage through the Western Mediterranean aboard Cunard's Queen Elizabeth. Discover enchanting cities from Barcelona's Gaudi marvels to  Ibiza treasures. Indulge in world-class dining, captivating entertainment, and refined onboard experiences. Explore the French Riviera, Italian coast, and historic ports with Cunard's signature elegance and style. Unforgettable moments await on this iconic ship's Western Mediterranean journey. 
7 nights
From £549 pp
Queen Elizabeth
Ports of Call: Barcelona, Spain – Toulon, France – Florence or Pisa (tours from Livorno), Italy – Valencia, Spain – Ibiza, Spain – Barcelona, spain and two days at the Sea. 
Itineraries
Day 1
Date : 23/10/2023
Barcelona, Spain
Arrives Early morning-Departs Evening,
Discover the captivating allure of Barcelona with its stunning architecture, rich history, and vibrant culture. Cruise to this must-see destination, where you can explore landmarks like Sagrada Familia and Camp Nou, indulge in Spanish cuisine, and revel in festivals. Immerse yourself in the city's bilingual identity and enjoy shopping on Portal de l'Àngel or La Rambla. With excellent transport options, including Metro and buses, and a thriving port, Barcelona welcomes visitors year-round. As Europe's largest cruise port, it boasts five terminals, top-notch facilities, and a prime location for seamless exploration of Catalonia and beyond.
Day 2
Date : 24/10/2023
At the Sea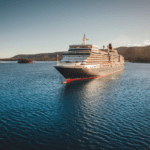 As night descends, the stage comes alive with our gifted performers. Craft your personalized wine collection and save up to 20%. Explore the Clarendon Fine Art Gallery aboard all four Cunard Queens to enrich your collection and find inspiration through curated artworks that rotate regularly.
Day 3
Date : 25/10/2023
Toulon, France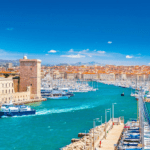 Arrives Early morning-Departs Afternoon,
Toulon graces the sun-soaked Côte d'Azur, nestled perfectly between Marseille and St Tropez. Here, uncover elegant beaches and the charm of Provençal landscapes with dry stone walls and fields of lavender. Rooted in naval history since 1494, Toulon boasts the National Naval Museum, where the Charles de Gaulle carrier resides. Stroll back from the vibrant harbor to find Toulon Cathedral, the grand Opera House on Place Victor Hugo, and the bustling Cours Lafayette market. Ascend Mount Faron by cable car for a serene city view. Beyond Toulon, explore Provence gems like Aix-en-Provence, Avignon, and the timeless allure of Hyères and St Tropez.
Day 4
Date : 26/10/2023
Florence or Pisa (tours from Livorno), Italy
Arrives Early morning-Departs Early evening
Explore Livorno, your gateway to Florence and Pisa, nestled in Tuscany's allure. Just two miles from the port, Livorno is steeped in history, while offering access to the treasures of its neighboring cities. Stroll through La Venezia's Venetian-style canal district, indulge in an Italian waterfront lunch, or explore the mighty medieval fortress, Fortezza Vecchia. Florence, a two-hour drive away, boasts the iconic Duomo and Uffizi Gallery, while an hour's journey leads to Pisa's Leaning Tower and captivating city walls. Savor Mediterranean cuisine and find local crafts while experiencing the ease of rail transport. Livorno's bustling port provides WiFi-equipped terminals for your convenience.
Day 5
Date : 27/10/2023
At the Sea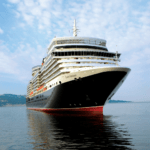 Find inspiration during your vacation and dive into the vastest book collections at sea. Dance into the late hours at the nightclub with live DJs and resident bands. Delight in the fresh breeze while enjoying an array of games on our expansive open decks.
Day 6
Date : 28/10/2023
Valencia, Spain
Arrives Morning-Departs Early evening,
Valencia offers a thrilling blend of history, art, and intellectual engagement. Ascend the 200 steps to the amphitheater's summit for a breathtaking view of orange rooftops and blue-domed churches. The city's architecture beautifully encapsulates its diverse Hispanic heritage, mirroring influences from Roman, Visigoth, Moorish, and Aragonese traditions.
Day 7
Date : 29/10/2023
Ibiza, Spain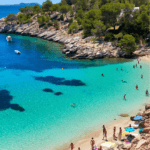 Ibiza, a compact haven bursting with captivating sights and exploration opportunities. Renowned for vibrant nightlife and stunning beaches, the island's history resonates through its Renaissance walls and UNESCO-protected sites. Discover the Ibiza Cathedral, Museu Puget, and the sun-soaked Reina Sofia. Baluard de Sant Jaume's city walls invite leisurely walks, while Platja de ses Figueretes offers tranquil beach escapades. Treat yourself at local coffee shops and eateries like Passion Marina and El Local. Savor Spanish delicacies and Mediterranean salads, paired with regional wines. Unearth local treasures at Mercat des Port's artisanal market or shop for crafts at Mercat Vell Market.