Itinerary
Description
Extra Information
Exclusions
Gallery
Dates & Prices
Enjoy a 11 nights cruise around the Western Mediterranean. 
Itineraries
Day 1 (Embark)
Time : 12:00 am
Southampton, England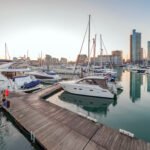 Located in the picturesque English county of Hampshire, Southampton is a vibrant waterfront city, serviced by direct trains to London, an airport, and an international cruise terminal. Explore the city's maritime heritage and links to RMS Titanic in the Sea City Museum, see contemporary British art in the Cultural Quarter, or walk the medieval walls in the Old Town, paying a visit to the Tudor House and Garden.
Day 2
Time : 9:00 am
Cruising (Day at sea)
Day 3
Time : 7:00 am
Cruising (Day at sea)
Day 4
Time : 8:00 am
Seville, Spain
Historic, mysterious and romantic, the Spanish city of Cadiz is unlike any other. Founded in about 1100 BC, it is generally accepted as the oldest continuously inhabited settlement in today's Europe.
But for the thin strip connecting it to the mainland to its south, Cadiz is an island of history and architecture that impresses at every turn through the streets of this charming ancient port.
Day 5
Time : 8:00 am
Cruising (Day at sea)
Day 6
Time : 7:00 am
Valencia, Spain
Valencia is an exhilarating mix of history, art and intellectual activity. Brave the 200 steps up to the summit of the amphitheatre, for a giddying panorama of orange rooftops and blue-domed churches.
Valencia's rich Hispanic culture is visible everywhere in the city's architecture, often reflecting Roman, Visigoth, Moorish, and Aragonese traditions.
Day 7
Time : 12:00 pm
Cruising (Day at sea)
Day 8
Time : 9:00 am
Rome (Civitavecchia), Italy
A visit to Rome is a genuinely unforgettable experience. Explore legends throughout the ages, including the Vatican and Michelangelo's Sistine Chapel, the Colosseum, the Roman Forum and the Catacombs.
Day 9
Santa Margherita Ligure, Genoa, Italy
Whether the Romans were ever here or not soon becomes irrelevant as you begin to understand and explore this unique and richly historic town. You'll experience its specific style of Italian character.
It's almost impossible to, but make sure you don't miss this: Cinque Terre is a dream-like patchwork blanket of colourful old buildings, draped over the seemingly inaccessible coast.
Day 10
Marseille, France
Port cities quite like Marseille are few and far between. You'll find the energetic, lively and ever changing Marseille combines an alluring historic past with brisk, modern and industrious present.
France's second-largest city, Marseille's was named a European Capital of Culture in 2013, and has since undergone much development and rejuvenation. It is a fantastic city to explore.
Day 11
Cruising (Day at sea)
Day 12
Gibraltar (Disembark)
Gibraltar is perhaps best known for The Rock, a 426-feet limestone ridge with sheer drops on its northern and eastern sides. Beyond, Gibraltar's landscape is rural, diverse, and well worth exploring.
Disembark in Gibraltar - Shop until you drop with no luggage restrictions!
Prices & Dates - Western Mediterranean (11 Nights)