Overview
Trip Outline
Trip Includes
Trip Excludes
Gallery
Price
16th October 2023
Embark on the Queen Elizabeth for an unforgettable journey through the captivating Western Mediterranean. This voyage blends luxury with cultural discovery, from iconic ports like Barcelona to the sun-soaked French Riviera. Explore historic treasures in Rome, the allure of Florence, and Tuscany's landscapes. Immerse yourself in rich Mediterranean history, saver impeccable amenities like gourmet dining and world-class entertainment, all while creating lifetime memories. 
Queen Elizabeth
from £649 pp
7 nights 
Ports of Call: Barcelona, Spain – Naples, Italy – Rome ( Civitavecchia), Italy – Ajaccio, Corsica, France – Palma de Mallorca, Majorca, Spain – Barcelona, Spain, and one day at the Sea. 
Itineraries
Day 1
Date : 16/10/2023
Barcelona, Spain
Discover the vibrant essence of Barcelona through its rich history, culture, and delectable cuisine. Explore iconic landmarks like the awe-inspiring Sagrada Familia and the renowned Camp Nou stadium. Immerse yourself in the city's bilingual charm, where Catalan and Spanish coexist harmoniously. Enjoy its lively music scene and embrace the festive atmosphere of street parties and world-class festivals. Indulge in authentic Spanish flavours at local eateries or shop at designer boutiques along Portal de l'Àngel and Avinguda Diagonal.
Day 2
Date : 17/10/2023
At the Sea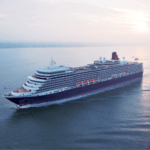 With a creative blend of mixology and an enchanting celestial theme, the Yacht Club boasts a unique allure. Featuring resident DJs and live bands, this refined cocktail bar stands as a must-visit venue aboard, promising a captivating experience.
Day 3
Date : 18/10/2023
Naples, Italy
Cruise into the picturesque Bay of Naples, revealing breathtaking vistas of Capri and Ischia islands. Delight in an array of elegant architecture, lush parks, and delectable Italian dining options. Immerse yourself in the past at the Museo Archeologico Nazionale, home to remarkable artifacts including mosaics recovered from Pompeii's ancient remains. This visit offers a fascinating glimpse into history.
Day 4
Date : 19/10/2023
Rome (tours from Civitavecchia), Italy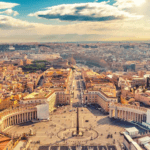 Explore the captivating city of Civitavecchia, gateway to Rome, with a history reaching back to the Middle Ages. The majestic Fort Michelangelo, guarding the port since the 15th century, greets you. Rome's wonders beckon, from the iconic Colosseum and Roman Forum to the exquisite Trevi Fountain and the awe-inspiring Pantheon. Venture to Palatine Hill for historic views, and Vatican City for its religious and artistic treasures. Savor traditional Italian cuisine at family-run cafes and indulge in local specialties, including pizza, pasta, and fresh seafood. Unwind with a gelato or an Aperol Spritz as you bask in the Mediterranean's charm.
Day 5
Date : 20/10/2023
Ajaccio, Corsica, France
Ajaccio invites you to follow Napoleon Bonaparte's early path, exploring his birthplace filled with family documents and portraits, offering a remarkable step into history. Contemplate the journey that shaped Europe's notable leader. And, amidst Tino Rossi harbour's pastel facades, vibrant fishing boats, and swaying palms, soak in the charming coastal ambiance.
Day 6
Date : 21/10/2023
At Sea
For gaming enthusiasts, a captivating array of games awaits your enjoyment. Immerse yourself in the refreshing embrace of multiple pools and whirlpools. Anticipate exquisite dining venues, exceptional culinary experiences, and an expansive ambiance to relish.
Day 7
Date : 22/10/2023
Palma de Mallorca
Palma de Mallorca, steeped in history, offers a vibrant center for cultural immersion. Cruise into its turquoise port, a gateway to golden beaches and swaying palms. The striking La Seu Cathedral, a Gothic masterpiece, captivates, while the Royal Palace of La Almudaina showcases Spanish architecture. Bellver Castle's circular design affords breathtaking views. Bask on Playa de Muro and Camp de Mar's beaches, or explore Cuevas del Drach's mesmerizing underground world. Es Baluard Museum intrigues with contemporary art. Savor Mallorcan cuisine, from Sobrassada to hearty Tumbet, and delight in Fideuà and Ensaimada specialties, capturing the island's culinary essence.