Overview
Trip Outline
Trip Includes
Trip Excludes
Gallery
Price
Experience the captivating Norwegian Fjords aboard Cunard's Queen Anne during a remarkable 7-night journey. Departing from Southampton, UK, this voyage takes you through the stunning landscapes of Stavanger, Olden, Innvikfjorden, Nordfjord, Geiranger, and more, offering glimpses of picturesque fjords and charming towns. Explore the natural beauty and cultural riches of Norway before returning to Southampton on 11th August 2024.
Queen Anne
7 nights
11th August 2024
From £799 per person
Ports of Call: Southampton, UK – Stavanger, Norway – Olden, Norway – Innvikfjorden, Norway (cruise-by) – Nordfjord, Norway (cruise-by) – Geiranger, Norway – Geirangerfjord, Norway (cruise-by) – Sunnylvsfjorden, Norway (cruise-by) – Storfjorden, Norway (cruise-by) – Haugesund, Norway – Southampton, UK, Plus two days At Sea.
Itineraries
Day 1
Southampton, England, UK
Situated in Hampshire, Southampton is a vibrant waterfront city with direct train links to London, an airport, and a cruise terminal. Discover its maritime heritage at the Sea City Museum, explore contemporary art in the Cultural Quarter, or stroll medieval walls in the Old Town, visiting Tudor House and Garden. Nearby, enjoy The New Forest, Winchester Cathedral, Stonehenge, Portsmouth Historic Dockyard, Isle of Wight, and a burgeoning craft beer and culinary scene.
Day 3
Stavanger, Norway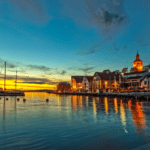 Stavanger, Norway, is a captivating blend of history and natural beauty. Once the European Capital of Culture, it seamlessly merges the old and new. The city sprawls across islands connected by graceful bridges, with Gamlen Stavanger's 18th-century houses housing artists' workshops. Museums showcase its deep maritime roots.
Day 4
Olden, Norway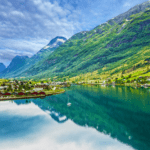 As you bid farewell to the serene village of Nord fjord, the awe-inspiring landscapes will undoubtedly linger in your memory and camera roll. Towering waterfalls tumble down majestic mountains, Lake Lovato shimmers with a milky turquoise hue, and the Kennedale Glacier emanates a mesmerizing greenish radiance.
Embark on a voyage of wonder as you cruise through Innvikfjorden, a standout gem among Norway's breath-taking fjords. The villages and farmsteads that dot its shores offer a humbling perspective. Immerse yourself in the tranquillity of the waters, the grandeur of the awe-inspiring landscapes shaped by nature's forces over millennia, and the deep connection humans hold with this remarkable beauty and its abundant resources.
Sailing is undoubtedly the finest way to grasp the grandeur of this ancient realm, with its palette of blues, greys, and greens. Nordfjord's beauty is often enhanced by hikers or wild ponies grazing along the fjord's edge. Some branches even mirror tropical paradises, boasting transparent waters and pure white sandy beaches.
Day 5
Geiranger, Norway
Nestled in Western Norway, the port of Geiranger is a picturesque marvel embraced by cascading waterfalls and rugged cliffs. Scenic mountain roads offer sweeping vistas over emerald landscapes and fjords. At the head of the iconic Geirangerfjord, this gem boasts dramatic scenery, charming villages, and a floating sea walk that immerses you in rushing waters and majestic mountains. Discover a world of old-world charm and modern allure as you explore Geiranger's unique beauty.
Prepare to cruise through the enchanting Sunnylvsfjorden in Norway. This captivating leg of your journey guides you through Norway's revered glacier-carved landscapes and stunning natural wonders, dotted with captivating historical sites along the way. When you make a stop at the village of Hellesylt, you'll have the opportunity for deeper exploration. Discover a renowned waterfall, get up close to a glacier, and bask in the beauty of Jostedal Glacier National Park.
Day 6
Haugesund, Norway
Haugesund proudly stands on Norway's southwest shore, where stunning fjords meet the North Sea. Sheer cliffs, rolling meadows, and nearby rock formations adorn this dramatic coastline. The region, once pivotal during the Viking Age, lent its name to Norway. With historical sites like Avaldsnes Viking Village and Karmoy Island, and hosting cultural festivals, Haugesund offers both history and modern celebrations. Nearby Akrafjord, embraced by towering cliffs, is a must-see for many visitors.
Day 8
Southampton, England, UK