Overview
Trip Outline
Trip Includes
Trip Excludes
Gallery
Price
Embark on a remarkable South Pacific journey aboard Cunard's Queen Victoria, departing from Sydney on 20th February 2024. Explore pristine paradises including the Isle of Pines, Lautoka, Suva, Port Vila, Luganville, and Noumea. This voyage promises a fusion of breath-taking landscapes, vibrant cultures, and unforgettable experiences before returning to Sydney.
Featured entertainment: Experience a pioneering entertainment line-up at sea, featuring impactful dramas, innovative virtual reality, immersive theatre, and renowned West End shows. This unique program, curated by a range of award-winning theatre producers, directors, writers, and actors, redefines onboard entertainment.
Queen Victoria
20th February 2024
From £2,099 per person
14 Nights 
Ports of Call: Sydney, Australia – Isle of Pines, New Caledonia – Lautoka, Fiji – Suva, Fiji – Port Vila, Vanuatu – Luganville, Vanuatu – Noumea. New Caledonia – Sydney, Australia - Plus 7 days At Sea. 
Itineraries
Day 1
Sydney, NSW, Australia
Sydney, Australia's oldest and largest urban centre, was shaped by gold mining and sheep breeding, evolving into the South Pacific's biggest port. Revered by Mark Twain as the "wonder of the world," Sydney boasts a natural harbour, golden beaches, and top-tier dining. While renowned for its outdoor lifestyle, the city transcends sun-soaked leisure. The Sydney Harbour Bridge and Opera House, alongside the lively harbour, create an exceptionally vibrant atmosphere. Exploring beyond reveals hidden coves, expansive beaches, and the captivating Blue Mountains.
Day 4
Isle of Pines, New Caledonia
The Isle of Pines, a hidden gem in the South Pacific, welcomes you to an untouched haven. Stepping ashore reveals a rugged, forgotten land with dazzling turquoise waters and pristine white beaches. Towering pine trees dot the landscape, while beneath the waves, vibrant coral reefs extend into the clear South Pacific. Aptly named "the closest island to paradise," the Isle of Pines captivates with its unparalleled beauty.
Day 6
Lautoka, Fiji
Lautoka, Fiji's second-largest city and gateway to tropical paradise, rests along the western coast of Viti Levu. Pristine beaches lead to crystal-clear lagoon waters, framed by lush terrain. With year-round warmth, idyllic days are spent beneath swaying palms on pristine shores. Its name, meaning 'Spear hit' in Fijian, echoes tribal history. Lautoka, dubbed Sugar City, thrives on sugar production, while its multicultural charm reflects its history of immigration. Beach enthusiasts relish white sands and turquoise waters for snorkelling and paddleboarding, completing the idyllic scene.
Day 7
Suva, Fiji
Fiji's capital, Suva, with 85,000 residents, offers a laid-back retreat from city life stereotypes. Nestled on a peninsula, Suva boasts village-style hospitality amidst spectacular landscapes. Lined with lush mangroves, it's not a typical beach resort, but a city with a multicultural ambiance. Colonial and modern architecture tell Suva's story, highlighted by Government House, now the Presidential palace. Wandering its streets, visitors are embraced by Fijian warmth and a unique blend of history and modernity.
Day 9
Port Vila, Vanuatu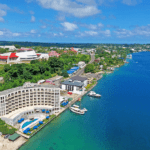 Vanuatu's capital, Port Vila, beckons with its charming streets and inviting cafés. While strolling, the breath-taking harbour frequently comes into view, adding to the city's allure.
Day 10
Luganville, Vanuatu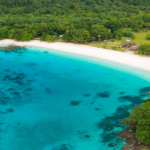 Luganville in Vanuatu, a tropical haven, boasts exquisite beaches and mesmerizing blue holes. As the archipelago's second city on Espiritu Santo Island, it's the inspiration behind "Tales of the South Pacific." With lush jungles and white sands, Luganville leads to world-class diving. From the famous SS President Coolidge wreck to Million Dollar Point, WWII relics offer captivating underwater experiences, while Champagne Beach and Lonnoc Beach grace the shoreline.
Day 12
Noumea, New Caledonia
Noumea, the South Seas' 'Riviera', exudes a charming French essence in its boutiques and cafés. With abundant sunshine, it outshines other Pacific islands, while its series of bays enchant beach enthusiasts.
Day 15
Sydney, NSW, Australia