Overview
Trip Outline
Trip Includes
Trip Excludes
Gallery
Price
Embark on a captivating 10-night journey aboard the Queen Elizabeth, exploring Queensland's coastal gems. Departing from Sydney on 22nd January 2024, visit vibrant cities like Brisbane, Cairns, and Port Douglas. Unwind on Whitsunday Island, discover the wonders of the Great Barrier Reef from Airlie Beach, and catch a glimpse of wildlife-laden Willis Island. This Australian adventure promises a blend of urban excitement, natural splendour, and maritime enchantment before returning to Sydney.
Queen Elizabeth
10 nights
22nd January 2024
from £1,299 per person
Ports of Call: Sydney, Australia – Brisbane, Australia – Whitsunday Island (tours from Airlie Beach), Australia – Cairns, Australia – Port Douglas, Australia – Willis Island, Australia (cruise by) – Sydney, Australia - Plus 4 days At Sea. 
Itineraries
Day 1
Sydney, NSW, Australia
Sydney, Australia's oldest and largest urban hub, flourished through gold mining and sheep breeding, now standing as the South Pacific's biggest port. Revered by Mark Twain as the "wonder of the world," Sydney's natural harbor, golden beaches, and culinary excellence create a dazzling metropolis. Beyond its outdoor allure, iconic landmarks like the Sydney Harbour Bridge and Opera House, along with the bustling harbor, define its dynamic essence. Exploring beyond uncovers hidden coves, sandy shores, and the stunning Blue Mountains.
Day 3
Brisbane, QLD, Australia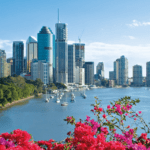 Queensland's capital, a marvel in itself, is Brisbane. The Brisbane River gracefully winds through the city, alongside Georgian sandstone structures and modern glass towers. Embracing its semi-tropical charm, Brisbane boasts vibrant flora like jacarandas, flame trees, and bougainvillea. Excursions from the city offer encounters with iconic Australian wildlife, where you can meet koalas, kangaroos, and wombats up close.
Day 5
Whitsunday Island (tours from Airlie Beach), QLD, Australia
The Whitsundays, with their turquoise waters, snow-white sands, and emerald forests, form a paradise that's almost too captivating to depart. Nestled between Queensland's coast and the Great Barrier Reef, these 74 islands boast world-class beaches. Airlie Beach, a relaxed coastal town, hosts surf boutiques, delightful souvenir markets, and seafood-filled bistros. The mesmerizing swimming lagoon stands as its highlight – don't forget your swimsuit, or you'll regret it once you witness its allure.
Day 6
Cairns, QLD, Australia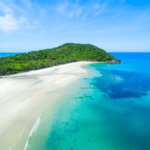 Cairns, in tropical Far North Queensland, serves as a laid-back gateway to the magnificent Great Barrier Reef – a haven for snorkelling and diving amidst vibrant marine life and coral. This outdoors enthusiast's paradise boasts two World Heritage sites: the reef and Daintree National Park. Cairns' cruise port, adjacent to the lively city centre, provides seamless access to shopping, dining, the Great Barrier Reef, and World Heritage Tropical Rainforests.
Day 7
Port Douglas, Australia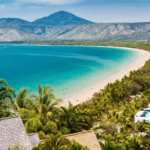 Nestled adjacent to the awe-inspiring UNESCO World Heritage sites of the Great Barrier Reef and the Daintree Rainforest, Port Douglas stands as a premier gateway to Australia's most breath-taking natural wonders. This coastal paradise beckons with its captivating landscapes, where coral reefs meet lush rainforests. Port Douglas offers a myriad of outdoor adventures, from diving into vibrant underwater realms to exploring the ancient, verdant canopies, making it an unparalleled destination for eco-enthusiasts and explorers alike.
Day 8
Willis Island, Australia (Cruise By)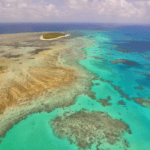 Admire the serene wildlife haven of Willis Island. The sole inhabited island among the Coral Sea Islands, it's a natural marvel you'll spot while cruising the Great Barrier Reef's turquoise waters. While not a port, Willis Island's allure is a must-see on any Australian cruise.
Day 11
Sydney, NSW, Australia