Overview
Trip Outline
Trip Includes
Trip Excludes
Gallery
Price
11th January – 28th April 2024
Embark on an extraordinary journey with Cunard's Full World Voyage. This epic adventure invites you to traverse the globe's captivating destinations and cultures, all while enjoying the unparalleled luxury and service that Cunard is renowned for. From iconic cities to hidden gems, immerse yourself in diverse landscapes, remarkable landmarks, and enriching experiences. As you sail across oceans and explore continents, create memories that will last a lifetime, connecting with fellow travelers and discovering the world's wonders. Whether seeking relaxation, adventure, or cultural enrichment, this Full World Voyage promises an unparalleled exploration of our planet's beauty and diversity.
Queen Mary 2
from £10,999 pp
108 nights
Ports of Call: Southampton, UK – Lisbon, Portugal – Tenerife, Spain – Walvis Bay, Namibia – Port Elizabeth, South Africa – Cape Town, South Africa – Durban, South Africa – Le Port, Reunion – Port Louis, Mauritius – Perth (Fremantle), Australia – Adelaide, Australia – Melbourne, Australia – Sydney, Australia – Cairns (Yorkey's Knob), Australia – Darwin, Australia – Bitung, Indonesia – Hong Kong, China – Hue or Da Nang (Chan May), Vietnam – Nha Trang, Vietnam – Ho Chi Minh City (Phu My), Vietnam – Singapore – Penang, Malaysia – Langkawi, Malaysia – Phuket, Thailand – Colombo, Sri Lanka – Doha, Qatar – Dubai, United Arab Emirates – Salalah, Oman – Petra (Aqaba), Jordan – Transit Suez Canal, Egypt – Athens (Piraeus), Greece – Barcelona, Spain – Seville (Cadiz), Spain,  and 54 days at the Sea. 
Itineraries
Day 1
Date : 11/01/2024
Southampton, England, UK
Situated in Hampshire, England, Southampton is a dynamic waterfront city with direct train connections to London, an airport, and an international cruise terminal. Immerse yourself in its maritime legacy and ties to the RMS Titanic at the Sea City Museum. Explore contemporary British art in the Cultural Quarter, or stroll along medieval walls in the Old Town, with a visit to the Tudor House and Garden. Beyond the city, discover treasures like The New Forest National Park, Winchester Cathedral, Stonehenge, Portsmouth Historic Dockyard, and the Isle of Wight. Indulge in the city's thriving craft beer and culinary scene for a delectable experience.
Day 2-3
Date : 13/01/2024
At Sea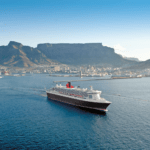 Day 4
Date : 14/01/2024
Lisbon, Portugal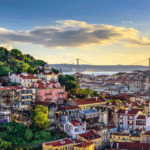 Lisbon, Portugal's capital, spreads its charm across seven steep hillsides overlooking the Tagus Estuary. Ancient sites adorn its streets, where red-tiled buildings nestle alongside Gothic towers. Museums, galleries, and historic trams reveal its rich history. Explore the National Coach Museum, Museu Coleção Berardo, and the stunning Miradouro da Graça viewpoint. Indulge in Lisbon's culinary scene, from pastelarias to rooftop bars, while Ribeira Market's stalls offer diverse flavours. Shop at Corte Ingles, Colombo mall, and Baixa Pombalina's historic stores. Principe Real and Chiado districts cater to artisanal boutiques and avant-garde fashion, making Lisbon a captivating and vibrant destination.
Day 5
Date : 15/01/2024
At Sea
Day 6
Date : 16/01/2024
Tenerife, Spain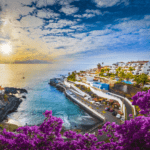 Lisbon, the capital of Portugal, enchants with its welcoming atmosphere and ancient wonders spread across seven hillsides overlooking the Tagus Estuary. Discover Lisbon's history through its tangled streets, showcasing Gothic towers, red-tiled buildings, and elegant shops. Museums like the National Coach Museum and Museu Coleção Berardo, along with stunning viewpoints like Miradouro da Graça, offer enriching experiences. Indulge in Lisbon's culinary scene, from pastelarias to rooftop bars, while shopping ranges from thriving markets to luxury boutiques like Corte Ingles and Colombo mall. This vibrant city seamlessly blends tradition and modernity, making every visit a memorable journey through time and culture.
Day 7-14
Date : 24/01/2024
At Sea
Day 15
Date : 25/01/2024
Walvis Bay, Namibia
Referred to as the 'Diamond of Africa', Namibia is a land of captivating allure, where contrasting landscapes coalesce in breath-taking beauty. This enchanting country boasts the world's oldest desert and highest sand dunes, showcasing an unrivalled tapestry of nature's artistry. Beyond its awe-inspiring terrain, Namibia also presents a mosaic of cultures and traditions, creating a harmonious blend that resonates with both locals and visitors. Nestled between the Namib Desert's graceful sand dunes and the majestic Atlantic Ocean, the expansive natural lagoon of Walvis Bay becomes a sanctuary for a diverse array of exotic birdlife.
Day 16-18
Date : 28/01/2024
At Sea
Day 19
Date : 29/01/2024
Port Elizabeth, South Africa
As you approach Port Elizabeth, known as 'The Bay', the city's vitality and prosperity become palpable. This thriving South African city stretches for 10 miles along Algoa Bay, one of the country's major seaports. Port Elizabeth's waterfront and city centre received a stylish revamp for the 2010 FIFA World Cup, showcasing dazzling white buildings against the backdrop of bobbing private yachts. British heritage echoes in the classical architecture, intertwined with local history. The Donkin Trail connects historic attractions, guiding you through charming sights like the Donkin Street terraced houses. Culinary diversity thrives here, offering a gastronomic world tour from Italian to Mexican cuisine
Day 20
Date : 30/01/2024
At Sea
Day 21-22
Date : 31/01/2024
Cape Town, South Africa
Nestled beneath the iconic Table Mountain, Cape Town boasts breath-taking beauty. Gorgeous beaches, rugged mountains, and vineyards dot its shores. Explore museums, gardens, historic sites, and top-notch dining. Venture to Stellenbosch's vineyards or Simon's Town's historic charm. The Table Mountain Aerial Cableway promises stunning vistas. Central Cape Town showcases the Koopmans de Wet House and St George's Cathedral. Indulge in Cape Town's gastronomy, from sushi to local sausages. Shopping ranges from markets to boutiques, with gems and crafts to cherish. Beyond, discover white beaches and renowned wineries. Simon's Town offers penguins, while Cape Point's Funicular ride is awe-inspiring.
Day 23-24
Date : 03/02/2024
At Sea
Day 25
Date : 04/02/2024
Durban, South Africa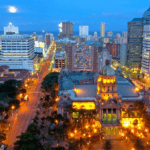 Durban, embraced by the Indian Ocean, offers a captivating blend of beaches, cityscape, and cultural riches. Its multicultural charm shines through the vibrant Victoria Street Market, where the aroma of spices mingles with colours. The Juma Masjid Mosque and Phansi Museum unveil history and artistry. Venture to the Valley of a Thousand Hills for Zulu traditions and breath-taking landscapes. Durban's 'Golden Mile' beachfront invites surfers and sun-seekers.
Day 26-28
Date : 06/02/2024
At Sea
Day 29
Date : 08/02/2024
Le Port, Reunion
Nestled to the east of Madagascar, Réunion beckons with its French-infused charm, set against a backdrop of tropical allure and diverse landscapes. Cultural Creole architecture and an array of geographical wonders define this island paradise.
Revel in the transition from sun-kissed beaches to verdant forests, while traversing rugged roads that unveil a tapestry of captivating vistas. The iconic 'Piton de la Fournaise' or 'Peak of the Furnace' invites adventurers to witness the drama of an active volcano, an awe-inspiring testament to the island's dynamic forces.
Day 30
Date : 09/02/2024
Port Louis, Mauritius
Mauritius pulses at its core with Port Louis, a captivating blend of cultures and influences. The city's bustling streets contrast the island's tranquil beaches. Discover well-preserved French colonial buildings, like the Government House, and explore the history of missionary Père Jacques Désiré Laval. The Blue Penny Museum showcases rare stamps and artifacts, bridging the gap between past and present in this vibrant capital.
Day 31-37
Date : 16/02/2024
At Sea
Day 38
Date : 17/02/2024
Perth (tours from Fremantle), WA, Australia
Perth's growth shines in contrast to the historic port of Fremantle. This sunny metropolis, hosting 80% of Western Australia's population, offers a fusion of flavours, stylish boutiques, and expansive green spaces. Kings Park's grandeur rivals Central Park, while stunning beaches grace the coast. Isolation shapes Perth's cosmopolitan charm along the Swan River. Discover galleries, museums, and the Perth Mint for gold history. Cottesloe Beach is a short drive away, and Kings Park offers panoramic views. Culinary delights range from international food trucks to fresh seafood and fine wines, exemplified by the renowned Margaret River wineries.
Day 39-41
Date : 20/02/2024
At Sea
Day 42
Date : 21/02/2024
Adelaide, SA, Australia
Adelaide's charming port offers stunning vistas, a charismatic coastline, and ample green spaces. Experience the magic of bottlenose dolphins in Port Adelaide River. Founded over 185 years ago, this gateway to Australia boasts rich history, local markets, and captivating 19th-century architecture. Explore culinary delights, an art scene, and native wildlife, including rare animals at Adelaide Zoo. Discover Adelaide's lush Botanic Gardens and rural areas, where bushland hosts iconic wildlife like koalas, kangaroos, and snakes across miles of reserves and parks.
Day 43
Date : 22/02/2024
At Sea
Day 44-45
Date : 23/02/2024
Melbourne, VIC, Australia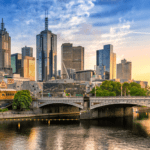 Originally a part of New South Wales, Victoria became an independent colony in 1851 due to gold discovery and agricultural growth. Your Melbourne guide: A lush and inviting city, brimming with cultural venues, cafes, bars, and diverse eateries. Hosting major events like the Australian Open and Melbourne Cup, the city blends heritage and modernity, showcased in its glass-clad skyline. Explore museums, Parliament House, Eureka Skydeck, and the Royal Botanic Gardens. Savour international cuisines in unique neighbourhoods like Chinatown, Carlton's Italian charm, and Lonsdale Street's Greek influence. Experience Melbourne's kaleidoscope of character through historic trams and memorable landmarks.
Day 46
Date : 25/02/2024
At Sea
Day 47-48
Date : 26/02/2024
Sydney, NSW, Australia
Sydney, Australia's oldest and largest city, boasts a stunning harbour and rich history. Gold mining and sheep breeding fuelled its growth, and it's now a major South Pacific port. Known as the "wonder of the world," Sydney offers more than sun-soaked beaches. Iconic landmarks like Sydney Harbour Bridge and Opera House define the cityscape. Explore The Rocks, Darling Harbour's attractions, and the Australian Museum for deeper insights. Savour diverse cuisines, from Asian flavours to innovative nouvelle cuisine, with Circular Quay offering waterfront dining options. Sydney's dynamic blend of history and modernity awaits.
Day 49-51
Date : 01/03/2024
At Sea
Day 52
Date : 02/03/2024
Cairns (tours from Yorkey's Knob), QLD, Australia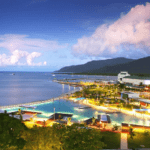 Cairns, Australia's northeastern gem, is enveloped in captivating nature. Nearby, ancient rainforests and the vast Great Barrier Reef beckon. This UNESCO World Heritage Site stretches over 1,500 miles, comprising reefs, cays, and islands teeming with marine life. Daintree and Cape Tribulation's rainforest, another UNESCO site, houses diverse and rare species. Kuranda, the 'village in the rainforest,' offers scenic rail and cable car journeys. Encounter indigenous culture at Tjapukai Aboriginal Cultural Park and explore market stalls for souvenirs in Kuranda. Cairns embodies nature's wonders and cultural riches.
Day 53-55
Date : 05/03/2024
At Sea
Day 56
Date : 06/03/2024
Darwin, NT, Australia
Located in Australia's remote 'Top End,' Darwin has evolved from a frontier settlement to a vibrant, multicultural city. The capital of the Northern Territory, Darwin serves as a gateway to stunning natural landscapes and Southeast Asia. Surrounded by majestic mountains and national parks, the city offers intriguing museums, such as the Museum of Northern Territory and WWII Oil Storage Tunnels. Explore the George B. Darwin Botanic Gardens and experience hand-feeding fish at Aquascene. Diverse dining options range from seafood and Asian cuisine to local specialties like barramundi and crocodile steaks.
Day 57-58
Date : 08/03/2024
At Sea
Day 59
Date : 09/03/2024
Bitung, Indonesia
Discover Bitung on the north coast of Sulawesi, Indonesia—an enchanting gateway to Sulawesi's marvels. From the vibrant capital, Manado, nestled amidst lush mountains, to Lembeh Island's black and white sands, and Airmadidi Village's ancient waruga stone graves, adventure awaits. Immerse in culture at Ban Hin Kiong Temple and Sentrum Church. Nature lovers relish Tangkoko Nature Reserve's mangrove forests. Gaze at the color-shifting waters of Lake Linow and savor local cuisine—cakalang fufu, ayam bakar rica, and nasi goreng. Experience Indonesia's seafood-rich flavours, coconuts in diverse forms, and the warmth of local cafés and oceanfront bars.
Day 60-62
Date : 12/03/2024
At Sea
Day 63-64
Date : 13/03/2024
Hong Kong, China
Hong Kong's allure lies in its captivating contradictions. Amidst modern commerce and skyscrapers, ancient beliefs and local customs thrive. This vibrant city harmonizes tradition and modernity, pulsating with life and honouring its past. Neon-lit streets host dumpling hawkers, sacred temples contrast skyscrapers, and luxury boutiques fill glossy centres. A blend of Chinese and British influences creates Hong Kong's dynamic personality. Culinary, cultural, and commercial excellence define this global hub. Discover galleries, art complexes, and Tai Kwun Centre. Seek refuge in Kowloon Park, ascend Victoria Peak, and experience the incense-laden Man Mo Temple. Relish Michelin-starred dining, traditional eateries, and diverse street fare. Embrace Hong Kong's aromatic, colourful, and flavourful explosion.
Day 65
Date : 15/03/2024
At Sea
Day 66
Date : 16/03/2024
Hue or Da Nang (tours from Chan May), Vietnam
Experience the South China Sea's unique coastline as you sail to Hue and Da Nang from Chan May. Explore historic tombs, vibrant paddy fields, and the Perfume River's beauty. Hue delves into Vietnam's imperial past with riverfront charm and ancient tombs. Da Nang dazzles with white sands at Lang Co and My Khe beaches, plus the captivating Marble Mountains. Savour the freshest Vietnamese cuisine—flavorful and often spicy, from aromatic Pho to Banh Mi's delightful sub rolls packed with pate and pickled vegetables. Indulge your senses and soul in these picturesque cities.
Day 67
Date : 17/03/2024
At Sea
Day 68
Date : 18/03/2024
Nha Trang, Vietnam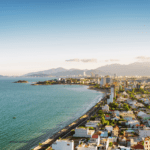 Newport's majestic millionaire mansions, showcasing Renaissance, Rococo, French, and Victorian styles, grace the cliffs extravagantly. Nha Trang, with 300,000 residents, preserves a welcoming small-town vibe. Delight in cable car rides and sandy beaches, while the yacht-filled harbor has been a prestigious host of the America's Cup.
Day 69
Date : 19/03/2024
At Sea
Day 70
Date : 20/03/2024
Ho Chi Minh City (tours from Phu My), Vietnam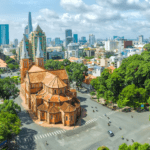 Phu My, Vietnam's culinary hub, opens doors to historic Ho Chi Minh City and the coastal haven of Vung Tau. Saigon, now Ho Chi Minh City, captivates with its fragrant cuisine and French colonial charm. Easily reach the city from Phu My by a brief bus journey, immersing in the bustling energy. Embrace contrasts from soaring skyscrapers to vibrant markets. Explore Jade Emperor Pagoda, savour street food at Nha Hong Ngon, and delve into history at The History Museum. Escape to serene Vung Tau, surrounded by ocean, to unwind amidst colonial architecture and stunning beaches.
Day 71
Date : 21/03/2024
At Sea
Day 72-73
Date : 22/03/2024
Singapore
Amidst its bustling port and prosperity, Singapore beckons with rich culture and history. From the colonial core's City Hall and Padang cricket field to the exquisite Buddha Tooth Relic Temple in Chinatown, the city's allure is diverse. Evolving from a 13th-century settlement, Singapore thrived through strategic British influence. Today, it's a dynamic blend of history, modernity, and tropical charm, with the Central Business District's skyscrapers reflecting its economic prowess.
Day 74
Date : 24/03/2024
At Sea
Day 75
Date : 25/03/2024
Penang, Malaysia
Experience Penang's vibrant blend of cultures and architecture along Malaysia's northwest coast. George Town, with its UNESCO heritage status, flaunts historic buildings and modern skyscrapers. Explore temples, British Colonial structures, and a lively arts scene. Savour diverse street food, from Char Kway Teow to Laska. Discover outdoor murals, visit Clan Jetty, and immerse in Penang's captivating fusion of flavours.
Day 76
Date : 26/03/2024
Langkawi, Malaysia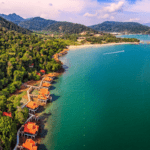 Langkawi, a paradise of 99 palm-fringed islands, showcases enviable beaches and abundant natural wonders wrapped in captivating folklore. Discover its magical allure through lush landscapes, intriguing legends, and a wealth of captivating experiences that make Langkawi an exceptional and unforgettable destination.
Day 77
Date : 27/03/2024
Phuket, Thailand
Unveil Phuket, the 'Pearl of Andaman Sea,' where vibrant history meets azure waters teeming with marine life. Beyond its pristine coast, explore lush coconut groves, traditional rubber plantations, and verdant hills adorned with ancient temples. Experience a Thai dance performance, cruise around James Bond Island, or embrace tranquillity at Phuket Town. Discover cultural diversity in Chinese temples, Dulyamiah Mosque, and Buddhist monasteries. Relish spicy Thai cuisine with tiger prawns, aromatic Tom Yam soup, and national rice dish. Quench your thirst with iced tea or local Singha beer, all within this captivating Thai haven.
Day 78-80
Date : 30/03/2024
At Sea
Day 81
Date : 31/03/2024
Colombo, Sri Lanka
Sri Lanka's captivating beauty—lush greenery, pristine beaches, and ancient ruins—welcomes you. Colombo, a historic crossroads, brims with cultural diversity, vibrant markets, and splendid architecture. Explore the candy-striped Jami Ul-Alfar Mosque, Gangaramaya Temple, and Wolvendaal Church. Indulge in fiery curries, grilled meats, and aromatic spices. Savour native fruits like varaka, and enjoy quintessential snacks like kottu roti. Discover history at Colombo National Museum and Dutch Museum. Sri Lanka's culinary excellence beckons—try local beers and savour obligatory cups of tea.
Day 82-55
Date : 04/04/2024
At Sea
Day 56
Date : 05/04/2024
Doha, Qatar
Doha, Qatar's dazzling capital, boasts a futuristic skyline shaped by visionary architects. Amid luxury shopping and fine dining, discover a historic heart untouched by time, enriched with alluring contradictions. Explore lush parks, museums, and the Corniche promenade. Uncover centuries of Arabic and Islamic history at the National Museum and Katara Cultural Village. Sample Qatari cuisine—indulgent sweets, camel meat, and iconic Machboos rice dish—especially in the vibrant Souq Waqif. Doha is a captivating blend of modernity and heritage in the Middle East.
Day 87-88
Date : 06/04/2024
Dubai, United Arab Emirates
Dubai, an intriguing fusion of Eastern and Western influences, dazzles with contrasts. Glamour, architecture, and natural beauty converge in this sensory metropolis. Explore historic sites like Jumeirah Mosque, revel in art at Dubai Design District, or witness the Miracle Garden's splendor. Discover tranquillity at Ras Al Khor Wildlife Sanctuary. Savour Middle Eastern flavours, world-class gastronomy, and diverse cuisines. Immerse in Dubai's allure, from bustling souks to the iconic Burj Khalifa, the world's tallest skyscraper.
Day 89-90
Date : 09/04/2024
At Sea
Day 91
Date : 10/04/2024
Salalah, Oman
Salalah, Oman's largest city and birthplace of Sultan Qaboos bin Said, invites you with its unique khareef atmosphere and stunning beaches reminiscent of the Caribbean. Explore Al Mughsail Beach's wild beauty and caves. Delve into history at the Museum of the Frankincense Land, showcasing ancient trading port ruins and maritime strength. Wander through vibrant markets like Al-Husn Souq, and relish traditional Omani cuisine.
Day 92-95
Date : 14/04/2024
At Sea
Day 96
Date : 15/04/2024
Petra (tours from Aqaba), Jordan
Aqaba, Jordan's sole coastal city, blends bustling souks and burnt orange mountains with seaside charm. Explore cultural gems like Sharif Hussein bin Ali Mosque and Aqaba Castle, while Aqaba Bird Observatory offers birdwatching. Delight in traditional coffee and pastries or modern cafes. Savor mezze, including hummus and tabbouleh, or indulge in local delicacies like Mensaf for an authentic taste of Jordan.
Day 97
Date : 16/04/2024
At Sea
Day 98
Date : 17/04/2024
Transit Suez Canal, Egypt (Cruise-by)
Travel along the 120-mile route connecting the Mediterranean and Red Sea, flanked by expansive low-lying deserts. Notable is the El Ferdan Railway Bridge, acclaimed as the world's largest swing bridge. As you journey, embrace the stark beauty of the desert landscape while marvelling at this engineering marvel.
Day 99
Date : 18/04/2024
At Sea
Day 100
Date : 19/04/2024
Athens (tours from Piraeus), Greece
From Piraeus, a brief journey takes you to Athens, the cradle of ancient Greece. Revolving around the Acropolis and its iconic Parthenon, Athens seamlessly blends history with modernity. Wander through the National Gardens, explore the Acropolis, and find tranquillity in Anafiotika's charm. Dining in Athens offers an array of traditional tavernas and innovative eateries, with Kouklakis standing out for its trendy scene.
Day 101-102
Date : 21/04/2024
At Sea
Day 103
Date : 22/04/2024
Barcelona, Spain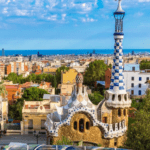 Barcelona captivates with its architecture, history, and Mediterranean charm. Explore iconic landmarks like Sagrada Familia, Camp Nou stadium, and vibrant Las Ramblas. Don't miss Parc de Montjuïc, Palau de la Música Catalana, and The MACBA for contemporary art. Barcelona promises a blend of culture and excitement.
Day 104
Date : 23/04/2024
At Sea
Day 105
Date : 24/04/2024
Seville (tours from Cadiz), Spain
Cadiz, Spain's oldest city, weaves a tapestry of history and charm. Its island-like setting, adorned with historic streets, vibrant bars, and serene beaches, beckons exploration. Don't miss the stunning Catedral de Cadiz, sunset views from Campo del Sur, and the vibrant Los Carnavales carnival. Relax at Playa de la Victoria's spacious beach, offering sun-soaked leisure and water sports.
Day 106-107
Date : 27/04/2024
At Sea
Day 108
Date : 28/04/2024
Southampton, England, UK