Overview
Trip Outline
Trip Includes
Trip Excludes
Gallery
price
03rd January 2024
Embark on an unforgettable journey with the Eastbound Transatlantic Crossing aboard the Queen Mary 2. Setting sail from New York, this iconic voyage promises a blend of luxury and adventure. Experience the grandeur of the open ocean as you make your way towards Southampton, England. Enjoy the ship's lavish amenities, exquisite dining, and world-class entertainment while immersing yourself in the timeless tradition of Cunard's transatlantic crossings. Witness breathtaking sunrises and sunsets, engage in enriching activities, and relish the tranquil solitude of the sea. This voyage offers a remarkable fusion of relaxation and discovery, a testament to the elegance and heritage that define Cunard's unique maritime legacy.
Queen Mary 2
From £699 pp
8 nights
Ports of call: New York, NY, USA & Southampton, England, UK plus 6 days at sea.
Itineraries
Day 1
Date : 03/01/2024
New York, NY, USA
Known as the 'Big Apple' or the 'City That Never Sleeps', New York is a vibrant haven for shoppers, bursting with remarkable attractions and pulsating energy. Divided into five boroughs, including Manhattan and Brooklyn, the city boasts iconic landmarks like Times Square, Central Park, and the Empire State Building. Explore Little Italy, Chinatown, catch a Broadway show, or visit the poignant 9/11 Memorial. Discover world-class museums like the Met and MoMa, while the Statue of Liberty and Ellis Island beckon via ferry. With over 18,000 restaurants, New York offers diverse cuisine, from pizza to Chinese and Italian delights, ensuring an unforgettable culinary journey.
Day 2-8
Date : 10/01/2024
At Sea
Immerse yourself in the enchanting melodies of live music on every Cunard journey. Capture the magic with a photographic keepsake. Whether joining in or spectating, sports aficionados will relish our onboard offerings, ensuring a fulfilling experience on our ships.
Day 9
Date : 11/01/2024
Southampton, England, UK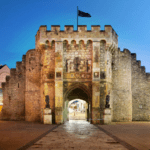 Discover Southampton, a dynamic waterfront city in Hampshire, England. Linked by direct trains to London and boasting an international cruise terminal and airport, it blends maritime history at the Sea City Museum, modern British art in the Cultural Quarter, and medieval charm in the Old Town with its Tudor House and Garden. Beyond, explore The New Forest National Park, Winchester Cathedral, Stonehenge, Portsmouth Historic Dockyard, and the Isle of Wight. Savour the city's vibrant craft beer and culinary offerings for a delightful experience.