Overview
Trip Outline
Trip Includes
Trip Excludes
Gallery
Price
Embark on a captivating 12-night voyage with Cunard aboard the iconic Queen Mary 2, exploring the enchanting British Isles. Departing from Southampton, UK, this voyage takes you to the historic streets of Edinburgh, the breath-taking Isle of Skye, vibrant Glasgow, and the musical charm of Liverpool. Discover the rugged beauty of Isle of May and the cultural riches of Cork. Immerse yourself in the rich history, stunning landscapes, and diverse cultures of these destinations. 
30th August 2024
from £999 per person
12 nights
Queen Mary 2
Ports of Call: Southampton, England, UK - Edinburgh (tours from South Queensferry), Scotland, UK – Isle of May, Scotland, UK (cruise-by) – Inverness (tours from Invergordon), Scotland, UK – Isle of Skye, Scotland, UK (cruise-by) – Glasgow (tours from Greenock), Scotland, UK – Liverpool, England, UK – Cork (tours from Cobh), Ireland – Southampton, England, UK- Plus 3 Days At Sea.
Itineraries
Day 1
Southampton, England, UK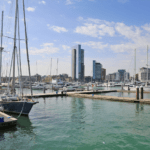 Nestled in Hampshire, Southampton is a dynamic waterfront city with convenient train links to London, an airport, and a cruise terminal. Discover its maritime history in the Sea City Museum, explore contemporary art in the Cultural Quarter, and stroll medieval walls in the Old Town. Nearby, explore attractions like New Forest National Park, Winchester Cathedral, and Portsmouth Dockyard. Indulge in the vibrant craft beer and culinary offerings while relishing options from Tudor House to Isle of Wight.
Day 3
Edinburgh (tours from South Queensferry), Scotland, UK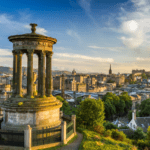 Embark on a River Forth journey to South Queensferry, graced by the iconic rail bridge. Explore its stepped streets and historic charm. Inch Colm Abbey and the awe-inspiring Forth Bridge stand out. A brief ride away, Edinburgh boasts grand architecture, Edinburgh Castle atop Arthur's Seat, and a shopper's haven on Princes Street. Find diverse dining from traditional to international delights. Try haggis for a local touch, complemented by Scottish shortbread and whisky.
Sailing from North Berwick, we encounter the striking Bass Rock, a volcanic island a mile off the Firth of Froth's coast. Teeming with bird and marine life, it hosts a lighthouse. Keep your binoculars and cameras handy to capture gannets in flight and nesting.
Cruising along the Firth of Forth, you'll have a view of the Isle of May. The island harbours a captivating blend of lively seabirds, seals, and echoes of Viking and smuggler lore. In early summer, the cliffs are alive with nesting sea birds, including the distinctive puffin with its vibrant, unmistakable beak.
Day 4
Inverness (tours from Invergordon), Scotland, UK
Enveloped in myth and legend, the iconic Scottish Highlands unveil their allure. Amid the rugged hills and lush valleys near Inverness, Loch Ness beckons, tempting observers to seek glimpses of its fabled creature. Close by, Culloden Moor marks the site of Bonnie Prince Charlie's defeat, while Cawdor Castle's association with Macbeth echoes through time. The region also hosts renowned whisky distilleries, adding to its distinctive charm.
Day 5
Isle of Skye, Scotland, UK (Cruise-by)
Being the largest among the Inner Hebrides, this island offers a chance to immerse in the history-laden ruggedness of the region. Vast stretches of unyielding coastline and captivating inland vistas await. Throughout history, this Gaelic isle in the Inner Hebrides has been fiercely contested due to its strategic position, bountiful wildlife, and salmon-filled waters.
Day 7
Glasgow (tours from Greenock), Scotland, UK
Greenock serves as the gateway to vibrant Glasgow, Scotland's cultural gem, and a starting point for exploring the rugged northern landscapes. Upon disembarking, you might be greeted by the traditional melodies of a Scottish pipe band in full tartan attire. Greenock itself boasts Victorian architectural elegance, influenced by its herring fishing and shipbuilding history. The cosmopolitan Glasgow, just 25 miles away, offers a blend of Victorian and modern architecture, along with intriguing museums like the Riverside Museum and the Gallery of Modern Art.
Day 9-10
Liverpool, England, UK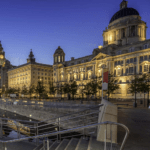 Liverpool, a former Cunard Line hub, harbours iconic structures like the Cunard Building, Royal Liver Building, and Port of Liverpool Building, known as the 'Three Graces.' A lively blend of contemporary flair and a hint of the '60s characterizes the city. Cross the Mersey River via ferry for stunning harbour vistas or embark on a Magical Mystery Tour to pay homage to The Beatles' legacy.