Overview
Trip Outline
Trip Includes
Trip Excludes
Gallery
Price
12th August 2024
Set off on a captivating journey aboard the Queen Victoria, sailing from Barcelona to Rome. Immerse yourself in the enchanting Mediterranean as you traverse from iconic Barcelona's architectural marvels to the historic treasures of Rome. Discover sun-soaked coasts, vibrant cultures, and delectable cuisines. Indulge in luxurious amenities, captivating entertainment, and breath-taking vistas. This Cunard voyage promises a harmonious blend of relaxation and exploration, creating unforgettable memories on this exquisite Barcelona to Rome escape.
Queen Victoria
From £699 pp
7 nights
Ports of Call: Barcelona, Spain,  Alghero, Sardinia, Ajaccio, Corsica, France, Messina, Transit Messina Strait (Italy), Naples, Italy and Rome (tours from Civitavecchia), Italy  plus 2 days at sea.
Itineraries
Day 1
Date : 12/08/2024
Barcelona, Spain
Experience the enchanting allure of Barcelona, a vibrant blend of captivating architecture, rich history, and Mediterranean charm. Immerse yourself in the bustling streets of Las Ramblas, marvel at iconic landmarks like Sagrada Familia and FC Barcelona's Camp Nou stadium, and indulge in the city's renowned cuisine and vibrant festivals. Barcelona's bilingual culture and diverse traditions offer a fascinating insight into its 2000-year history. Discover designer shops, local markets, and stylish boutiques while exploring the city's shopping streets. Efficient transport options like the Metro and buses ensure easy exploration. The bustling Barcelona port caters to both local and international visitors, boasting well-equipped terminals and top-notch safety measures. Don't miss the Picasso Museum and save time by booking your La Sagrada Familia ticket in advance. The summer months are the ideal time to relish Barcelona's charm.
Day 2
Date : 13/08/2024
At Sea
Indulge in an elegant evening of music and festivities, gracing your finest black tie attire. Our ships are perfect family getaways, offering abundant entertainment for our young guests. Across all four Cunard Queens, discover the Clarendon Fine Art Gallery, where a curated array of artworks awaits, inviting you to enrich your collection and be captivated by ever-changing selections of masterpieces.
Day 3
Date : 14/08/2024
Alghero, Sardinia
Sardinia, the second-largest Mediterranean island, boasts dramatic coastlines, stunning beaches, and prehistoric ruins. Alghero, with a Catalan flair, is a well-preserved Medieval gem. Alongside historic landmarks like Cattedrale di Santa Maria, explore charming cobbled streets and the captivating Bastioni walls. Activities range from Neptune's Grotto exploration to wine tasting at Sella and Mosca vineyards. Sardinia's rich history is evident in its diverse cultures, festivals, and archaeological sites. Sample local cuisine at Alghero's fish market and shop in boutiques along Via Carlo Alberto and Via Gilbert Ferret. Tranquil transportation options include trains, buses, and bicycles.
Day 4
Date : 15/08/2024
Ajaccio, Corsica, France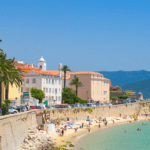 Explore Ajaccio to trace Napoleon Bonaparte's origins at his birthplace, a historic house filled with family artifacts. Reflect on his journey to becoming a prominent European leader. Also, delight in Tino Rossi harbour's charming pastel façades, vibrant fishing boats, and swaying palms.
Day 5
Date : 16/08/2024
At Sea
Our ships cater to sports enthusiasts, offering both active participation and spectator enjoyment. As the sun sets, our talented performers take the stage, promising delightful entertainment. Let your palate guide you to unique and delectable culinary experiences on board.
Day 6
Date : 17/08/2024
Messina, Transit Messina Strait (Italy)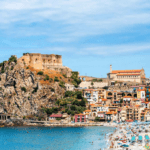 Messina: Arrives Early morning-Departs Early evening,
At the heart of Messina lies the enchanting Piazza del Duomo, where the towering bell tower houses an astronomical clock, one of the city's most captivating sights. Don't miss the noon spectacle, as bronze mythological figures and majestic lions come to life in a mesmerizing display. Beyond its historic treasures, Messina's lively atmosphere and strategic location make it an enticing destination for both travellers and traders, blending the charm of antiquity with the pulse of modern life.
Transit Messina Strait : Arrives Early evening-Departs Evening,
Navigate the legendary waters of the Strait of Messina for a captivating journey. Linking the Tyrrhenian Sea and the Ionian Sea, this narrow passage between Sicily and Calabria teems with migrating birds, including storks, flamingos, and birds of prey. Witness annual swordfish migrations and perhaps even a mirage on the horizon. Steeped in Greek myth and biodiversity, the strait's stunning coastal vistas and majestic peaks, like Monte Dinnammare and Peloritani, ensure a voyage filled with enchantment.
Day 7
Date : 18/08/2024
Naples, Italy
Cruise into the breath-taking Bay of Naples, where the allure of Capri and Ischia islands unfolds. Immerse yourself in a tapestry of architectural gems, verdant parks, and delectable Italian dining options. Discover the Museo Archeologico Nazionale, a treasure trove of history. Here, you'll encounter an array of captivating artifacts, including mosaics salvaged from the sunken city of Pompeii. Wander through this cultural haven and witness the tangible echoes of ancient life, bringing the past to vivid life against the backdrop of Naples' stunning scenery.
Day 8
Date : 19/08/2024
Rome (tours from Civitavecchia), Italy
As an Italian gem on a Mediterranean voyage, Rome promises extraordinary adventures. Unveil centuries of legends, from the Vatican and Michelangelo's Sistine Chapel to the Colosseum, Roman Forum, and Catacombs. Commence your unforgettable Roman journey by disembarking in the picturesque port city of Civitavecchia. Nestled on Italy's enchanting Lazio Region's western shores, Civitavecchia is a gateway to ancient history, captivating landscapes, mouth-watering cuisine, and indelible memories that will forever adorn your travelogue.