Overview
Trip Outline
Trip Includes
Trip Excludes
Gallery
price
8th November 2023
Embark on the Queen Victoria's Voyage Amsterdam, a refined journey through Europe's historic waterways. Experience luxury aboard, from exquisite dining to world-class entertainment. Explore charming coastal towns and cultural landmarks with immersive shore excursions. Culminating in Amsterdam's iconic canals and vibrant atmosphere, this voyage blends opulence and discovery for an unforgettable experience.
Queen Victoria
From £549 pp
4 nights 
Ports of Call: Southampton, England, UK, Amsterdam, Netherlands, and one day at the Sea 
Itineraries
Day 1
Date : 08/11/2023
Southampton, England, UK
Discover Southampton, a vibrant waterfront city in Hampshire, England. Unveil maritime history at Sea City Museum, explore Tudor House and Garden in the Old Town, or immerse in contemporary British art at the Cultural Quarter. Beyond, explore aviation legacy at Solent Sky Museum and indulge in the culinary scene. Diverse eateries and craft beer hubs dot the city, while shopping enthusiasts can explore Westquay Shopping Centre or Marlands Shopping Centre for fashion, lifestyle, and beauty finds. Southampton's charm extends from historic sites to modern attractions, offering a memorable experience for all.
Day 2-3
Date : 09/11/2023
Amsterdam, Netherlands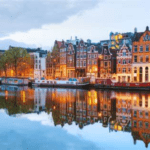 Arrives Afternoon-Departs Evening,
Amsterdam's allure lies in its captivating canals, arched bridges, and cyclist-friendly lanes. Immerse yourself in the distinctive charm of the Dutch capital. Wander along photogenic canals bordered by narrow houses and vibrant eateries, experiencing the harmonious blend of tradition and modernity. Delve into the city's rich culture by exploring galleries, museums, and iconic sites like Anne Frank House. Navigate the streets on foot or bike to uncover the UNESCO-listed canals. Amsterdam's gastronomy shines with Michelin-starred restaurants, diverse food halls, and inviting cafes. Dive into shopping on every corner, from artsy boutiques to street markets, with The Nine Streets and Spiegelkwartier standing out. Amsterdam is a feast for the senses, merging history, creativity, and lively energy.
Day 4
Date : 11/10/2023
At the Sea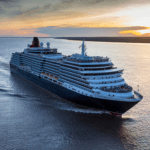 Our ships offer perfect family getaways, providing abundant entertainment for our younger guests. As the night unfolds, the stage comes alive with our skilled performers set to enchant you. Join us for an elegant evening of music and festivities, where dressing in your finest black tie attire adds to the allure of the occasion.
Day 5
Southampton, England, UK