Overview
Trip Outline
Trip Includes
Trip Excludes
Gallery
FAQ
Price
Embark on an unforgettable journey aboard the Queen Elizabeth with the Cunard Alaska 10-night holiday. Discover the rugged beauty of Alaska's landscapes, from glaciers to fjords, while enjoying the luxurious comfort and impeccable service Cunard is known for. Indulge in world-class dining, captivating entertainment, and curated shore excursions that bring you up close to indigenous wildlife and local culture. Immerse yourself in the breath-taking sights and experiences of Alaska, all from the elegant and sophisticated setting of the Queen Elizabeth ship. This 10-night voyage promises a perfect balance of adventure and refinement, creating memories to treasure for a lifetime. 
Queen Elizabeth
10 nights
11 June 2024
From £1,149 pp
Ports of Call: Vancouver, Canada – Sitka, USA – Skagway, USA – Icy Strait Point, USA – Glacoer Bay National Park, USA (Cruise-by) – Ketchikan, USA – Misty Fjords, USA – Victoria, Canada – Vancouver, Canada and two days At Sea. 
Itineraries
Day 1
Date : 11/06/2024
Vancouver, BC, Canada
Explore Vancouver's captivating blend of stunning scenery and vibrant culture with highlights like Grouse Mountain and the Capilano Suspension Bridge. As a top-rated global city, Vancouver's multicultural charm, art scene, and evolving culinary landscape enthral visitors. Beyond the city's urban delights, adventure awaits in hiking, skiing, and kayaking experiences, plus rejuvenating soaks in mineral-rich thermal springs. Landmarks span from historic Gastown to the iconic Stanley Park, while North Vancouver beckons with the awe-inspiring Capilano Suspension Bridge and Grouse Mountain's year-round allure. From museums to charming districts like Gastown and Burnaby, Vancouver is an all-encompassing destination for art, history, shopping, and outdoor exploration.
Day 2
Date : 12/06/2024
At Sea
Day 3
Date : 13/06/2024
Sitka, AK, USA
Discover the hidden gem of Sitka on Alaska's Baranof Island, an enchanting port embraced by snow-capped mountains and pristine waters. Blending Russian, Tlingit, and American influences, Sitka's rich history resonates through landmarks like Totem Square and the Russian Bishop's House. With limited roads, Sitka offers an escape from modern life. Explore museums, bookshops, and galleries, or embark on whale watching in Whale Park. Indulge in seafood excellence from king salmon to stone-baked pizza, all while soaking in breath-taking harbour views. Sitka's captivating fusion of culture, nature, and cuisine ensures a remarkable port experience.
Day 4
Date : 14/06/2024
Skagway, AK, USA
Skagway, Alaska, the Klondike gateway, echoes its gold rush past with frontier-style buildings. Beyond its Wild West charm, Skagway unveils captivating history and natural beauty. Stroll streets lined with iconic gold rush-era structures, like the Red Onion Saloon and Arctic Brotherhood Hall. Experience a Klondike prospector town re-enactment at Alaska 360, and brave the cold in the Chilcott Chill. Ride the historic White Pass and Yukon Route railway for breath-taking views. Visit the gold rush cemetery and City Museum for insights into Skagway's legacy. Enjoy diverse dining, from seafood to BBQ and global flavours, making Skagway a multifaceted port gem.
Day 5
Date : 15/06/2024
Icy Strait Point, AK, USA
Icy Strait Point epitomizes Alaskan wonder with its vibrant outdoor offerings. Engage in whale watching, kayaking, or nature hikes to spot bears and eagles. The world's largest zip line awaits thrill-seekers, while Hoonah village offers Tlingit heritage exploration. Relish fresh crab, smoked salmon, and reindeer in the laid-back dining scene. This native-owned haven on Chichagof Island captures Alaska's essence through its captivating activities, wildlife encounters, and delectable fare.
Day 6
Date : 16/06/2024
Glacier Bay National Park, AK, USA (Cruise-by)
Glacier Bay National Park shines as the crown jewel of Alaska's Inside Passage, boasting snow-capped peaks, abundant wildlife, and breathtaking glaciers across 3.3 million acres. The park's 1,000 glaciers majestically connect land and sky. Witnessing massive glaciers calving into icebergs is a thrilling highlight. Cruising offers optimal exploration, granting access to dense rainforests and captivating wildlife encounters. From humpback whales and orcas to brown bears and bald eagles, this pristine park's beauty and diversity unfold along its pristine coastlines and waters.
Day 7
Date : 17/06/2024
Ketchikan, AK, USA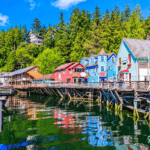 Ketchikan, a thriving fishing town with rich Alaskan heritage, boasts colourful stilted houses and a vibrant waterfront. Embrace its connection to native tribes through totem poles and cultural experiences. Explore Misty Fjords National Monument's breath-taking scenery or stroll along iconic Creek Street. Enjoy Alaskan lumberjack shows, snorkelling, or kayaking. Creek Street's galleries and Dolly's House museum showcase local art and history. Indulge in fresh seafood, including crab and chowder, while exploring Ketchikan's abundant dining options. Adventure-seekers will relish kayaking, floatplane tours, and wildlife encounters, making Ketchikan an all-encompassing Alaskan gem.
Day 8
Date : 18/06/2024
Misty Fjord, AK, USA
Nestled near Alaska's southern tip and the Canadian border, Misty Fjords is a serene haven of natural beauty. Sail through glassy waters surrounded by towering mountains, waterfalls, and lush forests. Part of Tongass National Forest, this protected wilderness teems with wildlife from orcas to bears. As John Muir praised, Misty Fjords mesmerizes with postcard-perfect scenes and a tranquil ambiance. Spot various creatures, from seals to eagles, as you bask in the calmness. Whether wrapped in a blanket on deck or engrossed in books, Misty Fjords offers a rejuvenating escape amidst remarkable landscapes and wildlife.
Day 9
Date : 19/06/2024
At Sea
Day 10
Date : 20/06/2024
Victoria, BC, Canada
Nestled on Vancouver Island's southern coast, Victoria, the capital of British Columbia, seamlessly blends historic charm with modern charisma. Stroll through its historic streets adorned with Victorian architecture, all set against dramatic coastlines. Explore timeless attractions like the Fairmont Empress Hotel and Craigdarroch Castle, or immerse yourself in lush gardens at Hatley Park and Butchart Gardens. Engage in guided tours of Parliament Buildings, appreciate diverse museums, or discover Chinatown's allure. Culinary enthusiasts will relish farm-to-table bistros, microbreweries, and iconic afternoon tea experiences. Victoria is a harmonious fusion of heritage, natural beauty, and vibrant culture.
Day 11
Date : 21/06/2024
Vancouver, BC, Canada
Vancouver offers a diverse shopping scene with options for every taste. Downtown's Robson Street hosts international and Canadian brands, while Gastown presents high-end boutiques and stores with antiques and indigenous art. Main Street caters to independent boutiques, while Burnaby's Metropolis at Metrotown is British Columbia's largest mall. Granville Market showcases local crafts, art, and skincare products. Vancouver's history is a tapestry of cultures, from Spanish settlers' influence on streets to Japanese immigrants' tea houses and cherry trees. Chinese, Indian, and Italian migrants have also contributed to the city's vibrant heritage.