Overview
Trip Outline
Trip Includes
Trip Excludes
Gallery
Price
Commence on a captivating 10-night voyage with Cunard's Queen Elizabeth, exploring the breathtaking wonders of Alaska. Depart from Vancouver, Canada, and traverse the stunning landscapes of Ketchikan, Tracy Arm Fjord, Juneau, Haines, Hubbard Glacier, Sitka, and Victoria. Immerse yourself in the grandeur of glaciers, fjords, and charming towns. Experience the thrill of wildlife sightings, marvel at monumental glaciers, and delve into rich indigenous cultures. Concluding in Vancouver, this cruise offers an unforgettable blend of natural beauty and cultural exploration in the heart of Alaska's enchanting wilderness.
21 June 2024
From £949 pp
Queen Elizabeth
10 Nights 
Ports of Call: Vancouver, Canada – Ketchikan, USA – Tracy Arm Fjord, USA (cruise-by) – Juneau, USA – Haines, Alaska – Hubbard Glacier, USA – Sitka, USA – Victoria, Canada – Vancouver, Canada, Plus two days At Sea. 
Itineraries
Day 1
Vancouver, BC, Canada
Vancouver is a world-renowned city, surrounded by breath-taking landscapes like Grouse Mountain and the Capilano Suspension Bridge. Its diverse population, rich culture, and burgeoning culinary scene make it a vibrant destination. Landmarks include historic neighbourhoods like Gastown, iconic Stanley Park, and thrilling attractions like the Capilano Suspension Bridge. For outdoor enthusiasts, Grouse Mountain offers year-round activities, accessible by the Skyride tramway. Vancouver truly blends urban allure with natural wonders.
Day 3
Ketchikan, AK, USA
In Ketchikan, a thriving fishing town with colourful stilted houses, immerse in Alaska's rich culture. Museums and seafood restaurants thrive, offering the catch of the day from local waters. The town's heart lies in its native heritage, showcased by a vast collection of totem poles and heritage experiences. Explore scenic trails and abundant fishing spots or venture to Misty Fjords National Monument, a breath-taking natural wonder. Don't miss landmarks like Deer Mountain trail and historic Creek Street.
Day 4
Tracy Arm Fjord, AK, USA (Cruise-by)
Embark on a true wilderness journey as you cruise towards the majestic mountain peaks at the gateway of Tracy Arm, situated in the south-eastern expanse of Alaska bordering British Columbia. Immerse yourself in pristine and captivating nature, encountering wildlife along the way, as you delve into sections of the world's largest temperate rainforest: Tongass National Forest.
Day 5
Juneau, AK, USA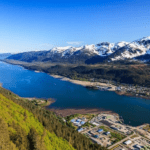 Nestled beneath an ever-present ice field and a never-freezing waterway, Juneau, Alaska's captivating capital, boasts unmatched beauty. The highlight not to be missed is the Mendenhall Glacier. Despite its compact urban area of 14 square miles, Juneau's allure extends far beyond, offering a breath-taking natural playground with humpback whales, forested trails, and soaring eagles. This town, rooted in the gold rush era, treasures Tlingit history, superb seafood, and an array of outdoor adventures, making it a place many call home.
Day 6
Haines, Alaska
Nestled at the head of a majestic fjord, Haines boasts breath-taking scenery that's a photographer's delight. With towering peaks, lush forests, and serene lakes, the city's charm is boundless. Discover Tlingit culture, explore historic forts, and encounter wildlife, all celebrating Alaska's heritage. Highlights include Fort William H. Seward, a Klondike Gold Rush relic, and the unique Hammer Museum. Engage in fishing, art galleries, or eagle encounters at the American Bald Eagle Foundation. Indulge in diverse dining options showcasing native and global flavours, complemented by local breweries and a gin distillery.
Day 7
Hubbard Glacier, AK, USA (Cruise-by)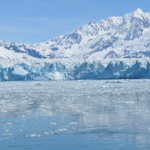 Experience the grandeur of Hubbard Glacier, North America's largest tidewater glacier, on a cruise-by. This icy marvel stretches 76 miles, with just 350 feet visible above water, evoking awe and humility. As you sail alongside, witness glacial formations and towering icebergs while learning about its history and impact. This rare encounter with nature's colossal masterpiece offers unmatched views and serene beauty. Look out for lazing sea lions and orca fins as you immerse yourself in this silent and iridescent world, capturing unforgettable moments from your ship's balcony or secluded deck.
Day 8
Sitka, AK, USA
Nestled on the east coast of Baranof Island, Sitka is a hidden gem in southeast Alaska. Snowy mountains and sapphire waters backdrop this picturesque city, resonating with diverse history. Russian, Tlingit, and American influences blend harmoniously. Explore Totem Square, Russian-era buildings on Lincoln Street, and the unique Russian Bishop's House. With a focus on art, culture, and outdoor escapes, Sitka's attractions, including Whale Park for whale spotting, offer a serene contrast to modern life. Enjoy seafood feasts or diverse cuisines with breath-taking sea views while savouring this Alaskan treasure.
Day 10
Victoria, BC, Canada
Victoria, British Columbia's capital, offers a captivating blend of history and modern allure. Its picturesque streets, Victorian architecture, and rugged coastlines create a charming atmosphere. Iconic landmarks include the historic Fairmont Empress hotel and the Hatley Castle with its enchanting gardens. Explore Parliament Buildings, museums like the Royal BC Museum, and Chinatown, the oldest in Canada. Don't miss a stroll in parks like Beacon Hill Park or visiting cultural hubs such as the Art Gallery of Greater Victoria. Culinary delights abound, from bustling Fisherman's Wharf to Bastion Square's eateries. Indulge in afternoon tea and discover local flavours through food tours.