Overview
Trip Outline
Trip Includes
Trip Excludes
Gallery

In the small, picturesque ports on the Dalmatian coast you are cruising the Mediterranean aboard your very own yacht-cruiser. Smaller numbers mean a more personal service on board, whilst the dimensions of our vessels allow easy access to stunningly attractive out-of-the-way ports like Split, Makarska and Hvar, which offer a much more intimate onshore experience. Our ships often sail between the islands and the shore, affording spectacular views that will stay with you for a lifetime.
Every evening, the ships remain moored so you can take an after-dinner stroll off the vessel, exploring these typically unspoilt ports. After just a few days of this extraordinary experience, you will be on first-name terms with the ship's company and most of your fellow guests. There is little formality – shorts and t-shirts are the order of the day. This is exactly how holidays should be.
8 days / 7 nights on a 4* yacht 
MS Adriatic Sun
Home Port: Split
01 October 2024*
From £1699 per person
* alternative dates available
*price correct as of time of publication 19.09.2023
Day 1: Split
Day 2:  Split - Korčula 
Day 3: Mljer
Day 4: Dubrovnik                   
Day 5: Dubrovnik  Peninsula Pelješac                                                   
Day 6: Pelješac Peninsula Hvar               
Day 7: Hvor - Bol - Split                    
Day 8: Return Home 
Itineraries
Day 1
Date : 01/10/2024
Split
On arrival in this historic city, you will be escorted to the harbour and the superb four-star MS Adriatic Sun, your home for the next seven nights. The captain and crew will be on hand to welcome you and then, having settled into your comfortable cabin and surroundings, our adventure begins! For the rest of the day, it's time to relax and get to know your fellow passengers – there are just thirty-nine of you in total! It'll soon be time for dinner and the ship's restaurant awaits. Perhaps later take an after-dinner stroll ashore in this most magical of cities.
Day 2
Date : 02/10/2024
Split - Korčula 
Split soon fades into the distance but we will of course return at the end of our cruise. We will have time for a swim stop this morning before enjoying a delicious lunch on board, as stunning views of this spectacular coastline drift by and it's not long before we arrive into the historic town of Korcula. Ruled by the Venetians for 800 years, it is rather reminiscent of a much smaller Dubrovnik, with its host of tangled lanes so typical of medieval Mediterranean ports.
Day 3
Date : 03/10/2024
Mljet
The Dalmatian coastline is legendary: one of Europe's most dramatic, extending for hundreds of miles, where steep limestone cliffs plunge into sapphire-blue waters. We arrive at Mljet, one of the most seductive of such islands, where the hillsides are clad in a green carpet of lush pine forests bringing that instantly recognisable Mediterranean aroma to the air.
Day 4
Date : 04/10/2024
Dubrovnik
Awaking in this most magical of cities, after breakfast we take a guided tour of the old town, an independent city-state for much of its history, it has evolved differently to the rest of Croatia. Throughout the city you will find a wonderful array of monasteries, beautifully decorated churches and civic buildings dating from the 14th century. This evening, enjoy another delicious dinner in one of the many traditional restaurants in this most beguiling of cities at your leisure.
Day 5
Date : 05/10/2024
Dubrovnik - Peninsula Pelješac
As we glide on past these truly beautiful seascapes, undiscovered beaches with secret coves and tiny traditional hamlets, unchanged for decades, we arrive at the pretty little seaside village of Trstenik on the Peljesac Peninsula. Nestled at the foot of the rolling hills behind, this picturesque, secluded spot is famed for its wine production where generations of families have produced excellent wines for hundreds of years.
We remain moored overnight, so take dinner at your leisure in this charming spot, where you can really feel like you are getting away from it all!
Day 6
Date : 06/10/2024
Pelješac Peninsula - Hvar
After breakfast, you can take to the deck to see the spectacular coastland sliding by as this morning we cruise northwards. There will also be the opportunity for a swim stop here in one of the world's most beautiful stretches of water.
We lunch on board before disembarking this afternoon into the delightful and bewitching little town of Hvar in this enchanting archipelago.
Day 7
Date : 07/10/2024
Hvar - Bol - Split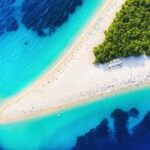 This morning's cruise brings us to Brac, the largest of the islands on this dramatic stretch of coastland; a typically Mediterranean landscape where its spectacular beaches give way to high pine forested uplands, and where a rich harvest of vines, olives and orange trees crowd the fertile valleys.
We head to the picturesque town of Bol, and you might like to take the opportunity for a swim from the stunning beach. During lunch back on board we cruise back into historic Split, principally famous for a single building, the Emperor Diocletian's huge palace, one of the greatest structures of the Roman Empire.
Day 8
Date : 08/10/2024
Return Home
After breakfast, disembark from the MS Adriatic Sun and return to the airport at the appropriate time.
6 tours & visits plus swim stops
Return flights from UK
Daily breakfast, 7 meals and Captian's dinner
All port charges and airport taxes