Itinerary
Excursions
Exclusions
Gallery
Enjoy a 7 night cruise from San Juan to Bridgetown. Devote a day to snorkeling in Guadeloupe's Terre-de-Haut before heading to the town of Bourg des Saites, where the menus celebrate the island's rich Norman-Breton heritage. The French sophistication continues in Martinique, where you can dine on magnificent French and Creole-inspired dishes at one of Les Anses d'Arlet's cozy bistros. 
Departure: 12th March 2023 
Itineraries
Day 1 (Embark)
Time : 12:00 am
San Juan, Puerto Rico
San Juan, the capital of Puerto Rico, is an intriguing blend of the old and the new. Founded in 1521, the city was a key port in the Spanish colonial empire, as evidenced by El Morro, the huge fortress that guards the harbor. Behind thick stone walls, Old San Juan retains its original character of blue cobblestone streets, elegant plazas and brightly colored heritage architecture. This lively center is the city's – and island's – cultural hub for museums, music, dining and more. The nearby Santurce district has emerged as the city's hippest, with unique shops, cutting-edge restaurants and trendy nightlife. Just minutes from the heart of San Juan are the iconic beaches of the Condado and Isla Verde, whose stretches of palm-fringed sands are lapped by the azure waves of the Atlantic.
Day 2
Time : 9:00 am
Vieques, Puerto Rico
Stunning beaches, cerulean seas, colorful coral reefs and the Caribbean's largest wildlife preserve: incredible tropical nature is the essence of Vieques, a small island less than 10 miles off the east coast of Puerto Rico. For decades most of the island was controlled by the U.S. Navy, whose former holdings – some 70 percent of the land – became the Vieques National Wildlife Refuge after the military withdrew in 2003. The refuge features Vieques' best beaches, acres of forest, and coastal habitats that encompass mangroves, reefs, sea grass beds, lagoons and open waters, as well as bioluminescent bays that make for a spectacular experience after dark. The refuge shelters a diverse array of wildlife, including nearly 200 species of resident and migratory birds and four types of sea turtles. On the south coast, the fishing village of Esperanza is the island's main hub, where life continues to follow traditional rhythms.
Day 3
Time : 7:00 am
Road Town, Tortola, BVI
Tortola is at the heart of the British Virgin Island's world-renowned sailing culture. Long, narrow and just over 21 square miles in area, the largest island of the BVI boasts a quintessentially Caribbean coastline of secluded white sand beaches, hidden coves and great natural anchorages. Inside a horseshoe-shaped harbor, the BVI capital of Road Town is the friendly, laid-back center for commerce, dining on fresh seafood and exploring nearby islets, tiny cays, reefs and dive sites. The 1780 Lower Estate Sugar Works Museum, VI Folk Museum, and Old Government House Museum showcase local history and culture in Road Town. Within Tortola's mountainous interior, Sage Mountain delivers the best views from 1,714 feet, the highest point in the Virgin Islands archipelago.
Day 4
Time : 8:00 am
Terre-de-Haut, Les Saintes, Guadeloupe
Les Saintes are a volcanic archipelago of two islands and seven uninhabited islets surrounded by thriving coral reefs and clear seas. Small at just over two square miles, Terre-de-Haut is the most developed of the group, thanks to an anchorage-rich coastline of scenic bays, natural harbors, quiet beaches and charmingly picturesque villages. The ambience is decidedly low-key, and days are devoted to beachgoing, hiking, snorkeling and diving. The island, too hilly and arid for agriculture, boasts longstanding maritime traditions and a rich Norman-Breton heritage dating to the first French settlers. The main town of Bourg des Saintes is home to cafés, bistros, the historic church of Notre-Dame de l'Assomption and Fort Napoleon. Built on the ruins of Fort Louis, the 19th-century garrison was used as a prison and today houses a cultural history museum with a botanical garden and the best views of Les Saintes.
Day 5
Time : 8:00 am
Portsmouth, Dominica
Mother Nature was especially gracious when she created the 'Nature Island' of Dominica. Life here is less about pool parties and more about throwing yourself into an eco-adventure at one of the island's many natural attractions, like its Boiling Lake or Champagne Reef. Sitting on Prince Rupert Bay, Portsmouth is the island's second-largest town and a great base for visiting Cabrits National Park or Indian River. Learn all about the island's colonial-era history at the mighty 18th century Fort Shirley at Cabrits National Park, or take a tranquil boat ride along the shady, mangrove-lined Indian River. For some quality beach time, head north to the Lagoon area, where you'll find a wide yellow sand beach and a selection of funky restaurants and bars to enjoy dinner in.
Day 7
Time : 7:00 am
Les Anses-d'Arlet, Martinique
The island of Martinique provides a little slice of French sophistication in the crystal-clear Caribbean. Sail into Les Anses-d'Arlet, a charming string of villages framed by lush green hills and some of the island's best beaches. Soak in the rich history at the Fort Saint-Louis or the Saint-Louis Cathédrale. Pull up a chair and watch the colorful boats bob in the bay as you dine on a delicious blend of French and Creole-inspired cuisine. Wash it all down with some of the best rum on Earth— Martinique's rums are the only ones in the world to carry the prestigious Appellation d'Origine Contrôlée (AOC) designation.
Day 8
Time : 9:00 am
Bridgetown, Barbados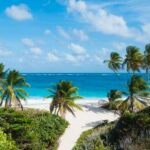 Barbados is a sophisticated tropical beauty steeped in English heritage and enlivened by the warm Bajan culture. In the capital of Bridgetown, the well-preserved Old Town and historic Garrison district represent an impressive British legacy designated a UNESCO World Heritage site. The island's lush interior is largely covered in forest and fields of sugar cane, a source of prized rums and great colonial fortunes. Attractions include restored great houses, a wildlife preserve, the underground formations of Harrison's Cave, first-rate golfing and some 60 beaches of incredible variety. To the west are white sands and gentle azure waters. The south is the center for both nightlife and reef snorkeling, while the high cliffs of the southeast form a stunning backdrop for windsurfing. The windswept east coast, with its pounding Atlantic surf, is Barbados at its most rugged and wild.
Discover curated experiences designed to ensure each moment ashore is uniquely rewarding. No matter which you choose, each excursion has been created to provide an exceptional travel experience. For those who prefer the freedom and flexibility of independent travel, the Concierge Ashore can transform tours into a private experience or craft an entire bespoke event just for you.
The Shore Collection excursions are available for booking 120 days prior to embarkation. The excursions listed below are intended as a guide for activities that may be available in each port, however, excursions are capacity controlled and may not be available on all voyages. Please check back regularly as more excursions will be added as they become available.
Shore Experiences
Road Town, Tortola
Terre-De-Haut, Les Saintes
Portsmouth
Bridgetown