Itinerary
Dates & Prices
Exclusions
Gallery
From Civitavecchia, close to Rome, we'll set sail for Bonifacio, a natural and cultural wonderland of limestone sea cliffs and citadels on Corsica's south coast. The best ways to see this striking settlement are on a boat trip or on foot, getting lost in the maze of lanes.
We'll discover Lipari, the largest island in a volcanic archipelago off the northeast coast of Sicily. There will be time to explore the town's candy-coloured seafront and enjoy a meal in one of the upmarket restaurants before stepping back on board and cruising past Stromboli, an Aeolian Islands volcano that has been erupting for around 2500 years.
The next leg takes us northwards along the mainland coast to Amalfi, a small town that gives its name to the most famous stretch of Italy's coast. Stay put for lemon sorbet on the beach and wander through the cathedral's stunning Cloister of Paradise. Alternatively, take time to explore the region's gravity-defying coastal villages, coves and bays. Elba, another archipelago island, is our next port of call. Best known as the place Napoleon spent in exile, the island is a great place for archaeological explorations, hiking or some time-out on one of the wonderful beaches.
Voyage Highlights:
Cruise along the Amalfi Coast, deemed an outstanding example of Mediterranean landscape by UNESCO. Take a wander along the picturesque port of Azzuro from Portoferraio.
Itineraries
Day 1 (Embark)
Time : 4:00 pm
Civitavecchia (Rome), Italy
Day 2
Time : 12:30 pm
Bonifacio, Corsica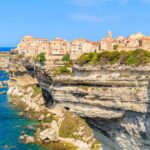 Day 3
Time : 7:00 am
Sailing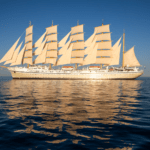 Day 4
Time : 12:00 pm
Lipari, Italy/Scenic Sailing Stromboli
Day 5
Time : 7:00 am
Almafi, Italy
Day 6
Time : 9:00 am
Sailing
Day 7
Time : 8:00 am
Portoferraio, Italy
Day 8
Civitavecchia (Rome), Italy
Dates: 6th - 13th June 2022 or 13th - 20th June 2022.
Prices: From £1,999 per person