Itinerary
Description
Gallery
Dates & Prices
Enjoy a 7 nights cruise around the Norwegian Fjords. Sail in style and relax aboard Iona as you cruise towards the stunning fjords. Summer is a fantastic time to explore the great outdoors, with hiking, biking, kayaking, sightseeing and more on offer. Iona is P&O's biggest, most innovative and greenest ship yet.
Itineraries
Day 1 (Embark)
Time : 12:00 am
Southampton, UK
The vibrant port city of Southampton has always had a rich history in seafaring and is still a popular embarkation port for cruises today.
Day 2
Time : 9:00 am
Cruising (Day at sea)
Day 3
Time : 7:00 am
Stavanger, Norway
Stavanger is a former European Capital of Culture, and it's not hard to see why. The city is heaven for culture vultures, boasting an impressive mix of museums, galleries and events celebrating Norway's rich heritage. The gateway to Norways spectacularly scenic fjordland, Stavanger is also a town with its own rich heritage as it is regarded as the 'Cradle of the Vikings'. This small city celebrates its lively heritage dating back to 872 when Viking King Harald Hårfagre founded the Kingdom of Norway in nearby Hafrsfjord. But there's more to the Vikings than pillaging and plundering. As you'll find out, these bearded warriors were pioneering explorers, canny traders, skilled craftsmen and artful storytellers with a dark sense of humour.
During their 250-year rule, Vikings sailed to Britain, France, Spain, Italy and North Africa – and journeyed overland through Russia and to modern-day Turkey and Iraq. The area of Rogaland has several sites of archaeological interest, while museums and exhibits in Stavanger bring Viking culture to life. Look out, too, for the Swords in Rock monument on the site of an epic battle. Three giant Viking swords (symbolising peace, unity and freedom) mark the spot and celebrate the unification of Norway.
Day 4
Time : 8:00 am
Alesund, Norway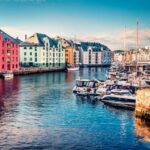 Everything about Ålesund is pretty. From its location at the entrance of Geirangerfjord to its unique architecture, it's the kind of place that sticks with you long after you've left. Because it was completely rebuilt after being destroyed by fire in 1904, Alesund looks quite different to other Norwegian towns along the country's west coast now better known as simply 'Fjordland'.
Day 5
Time : 8:00 am
Olden, Norway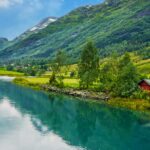 The peaceful village of Olden has the perfect Fjordland cruise setting - nestling at the southern end of one branch of the beautiful Nordfjord and at the entrance to the gorgeous Oldedalen Valley.
Olden is blessed with a beautiful fjordic coastline, towering mountains and the biggest glacier on mainland Europe, Jostedalsbreen. There's easy access to both the Briksdal and Kjenndalen glaciers, plunging dramatically into the valleys below. Crystal-clear Lake Oldevatnet is set among steep mountains and roaring waterfalls. In a nutshell, it's Norwegian nature at its finest.
Day 5
Time : 7:00 am
Innvikfjorden (cruise-by), Norway
Once you've seen the fjords, you'll know what 'wow factor' is! It's no exaggeration to say this is a truly breathtaking holiday destination. The dramatic scenery, the clean air and the purest silence are like nowhere else on earth. Nicknamed 'Mother Nature's wonderland', a holiday here resets the senses as you sail past powerful ancient peaks and tumbling waterfalls: your chance to feel in touch with Norway's natural wonders.
Day 5
Time : 12:00 pm
Nordfjord (cruise-by), Norway
Sailing through the Norwegian fjords is one of the great maritime experiences. Formed during the Ice Age when the glaciers retreated, the deep valleys and narrow inlets were flooded with seawater creating these natural wonders. Thanks to the warmth of the Gulf Stream these natural wonders are virtually ice free and easily explored. Nordfjord, located in western Norway, is astonishingly beautiful and diverse.
Day 6
Time : 9:00 am
Haugesund, Norway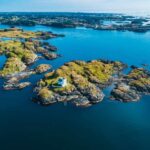 Haugesund, homeland of the Viking kings and birthplace of Norway, is a place where you can inhale the Viking spirit. Surrounded by beautiful coastline, spectacular waterfalls and majestic fjords it's no wonder the kings called this extraordinary setting home. Populated for thousands of years, you can walk in the footsteps of the great kings at the Nordvegen History Centre and travel back over 3,500 years. St Olav's Church, dating from 1250 AD, is a monument to the former days of glory, and next to the church stands one of Norway's tallest pillars, Virgin Mary's Sewing Needle. In nearby Rehaugene you can explore the 'Pyramids of the North' - six intriguing Bronze Age, earthen burial mounds. And if you are feeling like a spot of retail therapy, you're in luck - not only is Haugesund filled with charming markets it's also home to Norway's longest pedestrian street.
Day 7
Cruising (Day at sea)
Day 8 (Disembark)
Southampton, England, UK
The vibrant port city of Southampton has always had a rich history in seafaring and is still a popular embarkation port for cruises today.
Prices & Dates: Norwegian Fjords (7 Nights)