Itinerary
Gallery
Dates & Prices
Feel Free to go wild in Alaska aboard Norwegian Spirit. From Juneau, hike through the Glacier Gardens Rainforest and soak in incredible views of Mendenhall wetlands, Gastineau Channel and Admiralty Island as you travel to the base of Mendenhall Glacier. In Skagway, hop aboard the famous White Pass Scenic Railway and enjoy jaw-dropping panoramic views of towering mountains, dramatic gorges and tumbling waterfalls. Then embark on an incredible outdoor adventure in Valdez, from fishing and whale watching excursions to glacier hikes and more.
Itineraries
Day 1 (Embark)
Time : 4:00 pm
Vancouver, British Columbia
Positioned between the snow-dusted North Shore Mountains and the rich, blue waters of the Pacific Ocean, Vancouver blends big-city sophistication with small-town charm. Don't miss Queen Elizabeth Park - a 130-acre civic arboretum accented with sculptures by modern artist Henry Moore.
Day 2
Time : 9:00 am
Cruise Inside Passage
Get ready for amazing views and wildlife like nowhere else as you sail through the islands of Alaska's Inside Passage.
Day 3
Time : 7:00 am
Icy Strait Point, Alaska
Venture "where the north wind doesn't blow." Known for this famous saying, Icy Strait Point is the ideal landing spot for adventurers seeking a new experience. Breathtaking and exciting, Icy Strait Point truly takes you where the wild things are. It's one of the few places in the world where wildlife outnumbers the human population. A trip here certainly satisfies your taste for adventure. Take a cruise from Icy Strait Point and enjoy Alaska's awe-inspiring scenery and the many excursion options that Norwegian Cruise Line has to offer.
Day 4
Time : 8:00 am
Juneau, Alaska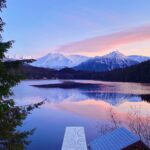 Juneau has been called "Alaska's peak experience," certainly due in part to its unparalleled glacier viewing from such places as Tracy Arm Fjord, the Juneau Icefields and Glacier Bay National Park. Kayak up one of the area's many protected waterways, go flightseeing, tour historic downtown or try your hand at panning for gold. The majestic Mendenhall Glacier lies nearly 12 miles outside Juneau, a treck worthwhile.
Day 5
Time : 8:00 am
Skagway, Alaska
In a single year from 1896 to 1897, this remote town along the Inside Passage grew from a few tents to a city of 20,000 gold seekers. Today, travellers come in search of other riches - to experience yesteryear along Skagway's charming boardwalk lined with buildings that replicate those Gold Rush days.
Day 6
Time : 7:00 am
Cruise Hubbard Glaicer
Get up close and personal with the gigantic Hubbard Glacier, North America's largest tidewater glacier. It's 1350 square miles of blue ice and one of the most active in Alaska.
Day 7
Time : 12:00 pm
Keystone Canyon (Valdez), Alaska
If you're interested in dramatic landscapes and diverse wildlife, then Valdez is for you. Ideally nestled along Prince William Sound, this picturesque town seems to have it all-towering mountains, wildflower-carpeted meadows, iceberg-dotted waters and expansive glaciers. Feel Free to go a little wild on an exhilarating shore excursion, from fishing and whale watching to glacier hikes and much more. Or explore the town's Gold Rush history, browse local shops and savor fresh seafood.
Day 8
Seward, Alaska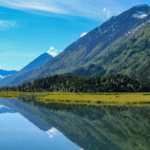 Best known for its beautiful parks and mountain scenery, Seward, Alaska is not to be missed. There is nearly an endless variety of outdoor activities to enjoy in Seward, from mountain biking and climbing, to rafting, sea kayaking, and dog-sledding, and even skiing, fishing or white water rafting. Explore scenic hiking trails or have a picnic amongst the pristine landscape. There's no shortage of enjoyable pastimes in Alaska's City of Seward.
Prices & Dates - Alaska: Hubbard Glacier & Skagway to Seward