Itinerary
Exclusions
Gallery
Dates & Prices
Sail the azure coastline of the French Riviera, admire the colourful mosaics of Parc Güell in Barcelona, or take a tour to Seville from Cadiz, on this sun-infused voyage to Rome from Southampton.
Dates: 28th July - 4th August 2023
Itineraries
Day 1
Time : 12:00 am
Southampton, UK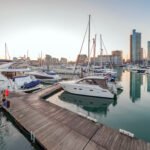 Located in the picturesque English county of Hampshire, Southampton is a vibrant waterfront city, serviced by direct trains to London, an airport, and an international cruise terminal. Explore the city's maritime heritage and links to RMS Titanic in the Sea City Museum, see contemporary British art in the Cultural Quarter, or walk the medieval walls in the Old Town, paying a visit to the Tudor House and Garden. Further afield you'll find The New Forest National Park, Winchester Cathedral, Stonehenge, Portsmouth Historic Dockyard and the Isle of Wight, while the city's thriving craft beer and culinary scene will leave you spoilt for choice when hunger strikes.
Day 2-3
Time : 9:00 am
Cruising (Day at sea)
Day 4
Time : 7:00 am
Seville (tours from Cadiz), Spain
Historic, mysterious and romantic, the Spanish city of Cadiz is unlike any other. Founded in about 1100 BC, it is generally accepted as the oldest continuously inhabited settlement in today's Europe.
But for the thin strip connecting it to the mainland to its south, Cadiz is an island of history and architecture that impresses at every turn through the streets of this charming ancient port.
Day 5
Time : 8:00 am
Cruising (Day at sea)
Day 6
Time : 8:00 am
Barcelona, Spain
With its unforgettable charm, breathtaking architecture, rich history, warm Mediterranean waters and colourful landscapes, Barcelona is an extraordinary place to visit. Allowing you to soak up the sights, sounds and flavours of different cultures, it's a must-see destination that offers class, charm and excitement in equal measures.
Day 7
Villefranche, France
Cruising into the port of Villefranche, you may be forgiven for mistaking the sleepy seaside town as a landscape straight out of a Renaissance painting.
Steeply terraced streets dappled in various pastel shades sweep along the edge of the natural bay, welcoming you to a region laden with Mediterranean charm and French culture.
Day 8
Rome (tours from Civitavecchia), Italy
An Italian jewel on a Mediterranean cruise, Rome (tours from Civitavecchia) offers up some of the most spectacular experiences imaginable. Explore legends throughout the ages, including the Vatican and Michelangelo's Sistine Chapel, the Colosseum, the Roman Forum and the Catacombs.
Begin your unforgettable trip to Rome by first disembarking in the stunning port city of Civitavecchia, a classic Mediterranean destination in its own right. Located on the western shores of Italy's beautiful Lazio Region, Civitavecchia is the gateway into ancient history, remarkable scenery, delectable culinary treats, and memories you will treasure forever.
Flights to Southampton, UK
Prices & Dates - Mediterranean Highlights