Itinerary
Description
Inclusions
Gallery
Dates & Prices
7 Days. 7 Ports. 1 Amazing Holiday.
Itineraries
Day 1 (Embark)
Time : 4:00 pm
Amsterdam, Netherlands
Affectionately known as the "Venice of the North," Amsterdam is actually situated below sea level and built entirely on stakes driven into the ground. The Anne Frank House, The Hague and a Delft Blue Pottery Factory are but a few of the sights that await your arrival. Explore more of Amsterdam on a European cruise!
Day 2
Time : 12:00 am
Cruising (Day at sea)
Day 3
Time : 7:00 am
Berlin (Rostock), Germany
Rostock is the largest city in the north German state Mecklenburg-Vorpommern and the newest port addition to our European destinations.
Day 4
Time : 12:45 pm
Gdynia, Poland
Stroll the beautiful waterfront of Gdynia before heading to nearby Gdansk, the largest city in northern Poland. For a taste of local life, walk along bustling Long Market lined with delicious cafes and unique boutiques. Explore the sites of historic Old Town, which was restored after being destroyed in World War II. Tour St. Mary's Church – one of the world's largest brick cathedrals – or visit the Maritime Museum for a glimpse into the past of this ancient port city. Explore more of Gdynia on a European cruise!
Day 5
Time : 7:00 am
Klaipeda, Lithuania
Lithuania's third largest city, Klaipeda has been in and out of the hands of the Russians, Swedes and Germans. Marvel at the impressive, and verbosely christened, St. Mergelės Marijos Taikos Karalienės Church tower and walk through Anika Square. Head to the pristine Baltic waters lapping at the broad sands of Smiltynė Beach. Or duck into the Clock Museum or Castle Museum.
Day 6
Time : 8:00 am
Riga, Latvia
As the largest city in the Baltic and the capital of Latvia, Rīga offers something for everyone. From its fanciful cobblestone streets and Art Nouveau architecture to dozens of museums and a picturesque white-sand beach in nearby Jūrmala, there's much to experience in this vibrant cosmopolitan city. Come explore what has been called the "Paris of the Baltics."
Day 7
Time : 9:00 am
Tallinn, Estonia
The capital of Estonia impresses cruise guests with its mix of medieval houses and very modern boutiques and café culture. Journey inside the ancient walls of Old Town to explore stunning Medieval landmarks like Toompea Castle and a 15th Century apothecary shop. Move up a couple centuries to experience Tsar Peter I's Kadriorg Palace, filled with art and surrounded by sculpted gardens and peaceful woodlands.
Day 8 (Disembark)
Time : 7:00 am
Stockholm, Sweden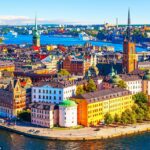 Laced by an ingenious network of waterways and bridges strung between a freshwater lake and the sea, Stockholm is easily seen on foot or by waterway cruise. Its gabled old townhouses peer over cobblestone streets, whilst its magnificent 17th-century palace sits watching over the harbor. Explore more of Stockholm on a European cruise!
30% discount applied and includes 2 of the following:
– Drinks Package
– Dining Package
– Wifi Package
– Shore Excursion Credit
– Extra Guests Sail at a Reduced Rate
Europe: Amsterdam to Stockholm Cruise (7 Days)