Itinerary
Description
Exclusions
Gallery
Dates & Prices
Queen Mary 2 is a remarkable flagship, her style and elegance are legendary. Above all, it's the space she offers and the luxury for you to do as little or as much as you wish which sets her apart.
Itineraries
Day 1 (Embark)
Time : 12:00 am
Southampton, England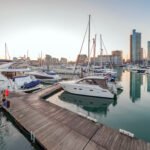 Located in the picturesque English county of Hampshire, Southampton is a vibrant waterfront city, serviced by direct trains to London, an airport, and an international cruise terminal. Explore the city's maritime heritage and links to RMS Titanic in the Sea City Museum, see contemporary British art in the Cultural Quarter, or walk the medieval walls in the Old Town, paying a visit to the Tudor House and Garden.
Day 2
Time : 9:00 am
Cruising (Day at sea)
Day 3
Time : 7:00 am
Cruising (Day at sea)
Day 4
Time : 8:00 am
Cruising (Day at sea)
Historic, mysterious and romantic, the Spanish city of Cadiz is unlike any other. Founded in about 1100 BC, it is generally accepted as the oldest continuously inhabited settlement in today's Europe.
But for the thin strip connecting it to the mainland to its south, Cadiz is an island of history and architecture that impresses at every turn through the streets of this charming ancient port.
Day 5
Time : 8:00 am
Cruising (Day at sea)
Day 6
Time : 7:00 am
Cruising (Day at sea)
Valencia is an exhilarating mix of history, art and intellectual activity. Brave the 200 steps up to the summit of the amphitheatre, for a giddying panorama of orange rooftops and blue-domed churches.
Valencia's rich Hispanic culture is visible everywhere in the city's architecture, often reflecting Roman, Visigoth, Moorish, and Aragonese traditions.
Day 7
Time : 12:00 pm
Cruising (Day at sea)
Day 8
Time : 9:00 am
New York, USA
Whether you know it as the 'Big Apple' or the 'City That Never Sleeps', New York is a shoppers' paradise, crammed full of exceptional sights and experiences, and pulsing with palpable energy.
Prices & Dates - Westbound Transatlantic Crossing (7 nights)