Itinerary
Exclusions
Gallery
Dates & Prices
Swap Hamburg's canals for the bright lights of New York on this 11-night voyage. Enjoy a day exploring Southampton's medieval history before a Transatlantic Crossing to the city that never sleeps.
Dates: 9th - 20th January 2023
Itineraries
Day 1 (Embark)
Time : 12:00 am
Hamburg, Germany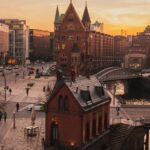 Seventy miles from the sea, on the Elbe River in northern Germany, Hamburg is the second largest port city in Europe and one of Germany's most cosmopolitan, dynamic and fascinating destinations. The city has some 2,000 plus bridges - more than Venice and Amsterdam combined, earning Hamburg the moniker the 'Venice of the North'. As well as exploring the city's highlights, including its neo-renaissance and baroque architecture, Museum of Fine Arts and redbrick warehouse district, you can travel to attractive World Heritage city of Lübeck. Sample the famous Niederegger marzipan and explore Lübeck's Old Town, where gabled houses and ancient churches span over 100 hectares.
Day 2
Time : 9:00 am
Cruising (Day at sea)
Day 3
Time : 7:00 am
Southampton, England, UK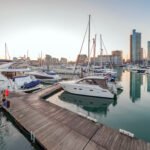 Located in the picturesque English county of Hampshire, Southampton is a vibrant waterfront city, serviced by direct trains to London, an airport, and an international cruise terminal. Explore the city's maritime heritage and links to RMS Titanic in the Sea City Museum, see contemporary British art in the Cultural Quarter, or walk the medieval walls in the Old Town, paying a visit to the Tudor House and Garden. Further afield you'll find The New Forest National Park, Winchester Cathedral, Stonehenge, Portsmouth Historic Dockyard and the Isle of Wight, while the city's thriving craft beer and culinary scene will leave you spoilt for choice when hunger strikes.
Days 4-10
Time : 8:00 am
Cruising (Day at sea)
Days 11-12
Time : 8:00 am
New York, NY, USA
Whether you know it as the 'Big Apple' or the 'City That Never Sleeps', New York is a shoppers' paradise, crammed full of exceptional sights and experiences, and pulsing with palpable energy.
Your guide to New York.
Divided into five boroughs: Manhattan, the Bronx, Staten Island, Brooklyn and Queens, the city sits on the country's east coast at the mouth of the Hudson River. It's in Manhattan that New York's most famous attractions can be found, from Times Square and Central Park to the iconic Empire State Building. Venture to Little Italy and Chinatown, see an award-winning show on Broadway or take a ferry to visit nearby Ellis Island and the Statue of Liberty.
Flights to Hamburg, Germany 
Prices & Dates - Westbound Transatlantic Crossing from Hamburg