Itinerary
Description
Exclusions
Gallery
Dates & Prices
Join us on Queen Elizabeth and immerse yourself in her evocative art deco elegance. Our newest Queen exudes style and has an especially refined feel. Prepare yourself for a truly remarkable voyage.
Itineraries
Day 1 (Embark)
Time : 12:00 am
Hamburg, Germany
Seventy miles from the sea, on the Elbe River in northern Germany, Hamburg is the second largest port city in Europe and one of Germany's most cosmopolitan, dynamic and fascinating destinations. The city has some 2,000 plus bridges - more than Venice and Amsterdam combined, earning Hamburg the moniker the 'Venice of the North'. As well as exploring the city's highlights, including its neo-renaissance and baroque architecture, Museum of Fine Arts and redbrick warehouse district, you can travel to attractive World Heritage city of Lübeck. Sample the famous Niederegger marzipan and explore Lübeck's Old Town, where gabled houses and ancient churches span over 100 hectares.
Day 2
Time : 9:00 am
Cruising (Day at sea)
Day 3
Time : 7:00 am
Copenhagen, Denmark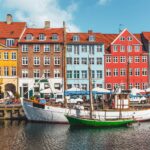 Founded in the 12th century, Copenhagen is strikingly modern and richly traditional in equal measure, bringing you the ramparts of Hamlet's Elsinore along with the latest in Scandinavian design style.
Day 4
Time : 8:00 am
Cruising (Day at sea)
Day 5
Time : 8:00 am
Visby, Sweden
Visby, known for its town wall, is the largest town on the Swedish island of Gotland and is around 55 miles east of the mainland in the Baltic sea. It has a close neighbour, the smaller isle of Faro.
The two are known for their 'raunks', a series of gnarled limestone formations around the coast that were created during the ice age. Faro's lighthouse and medieval church are popular film locations.
Day 6
Time : 7:00 am
Stockholm, Sweden
With a certain unforgettable Baltic allure, the Old Town of Stockholm is like a picture postcard with charming side streets, fashionable shops and the Royal Palace, humming with the buzz of the city.
Day 7
Time : 12:00 pm
Helsinki, Finland
Sail into Helsinki, past the island fortress of Suomenlinna, to find a clean and bustling capital city of neo-classical architecture. Shop along the Esplanade for Finnish crafts, visit architect Saarinen's studio, or while away some shore time strolling the city streets for curiosities, galleries, cafés and restaurants.
Day 8
Time : 9:00 am
Tallinn, Estonia
Tallinn is Estonia's capital and cultural hub. It is a busy Baltic Sea port with a walled Old Town made of cobblestones, cafés and shops. Plus there's Kiek in de Kök, its 15th-century defensive tower.
Day 9
Cruising (Day at sea)
Day 10
Kiel, Germany
Kiel is very much a famous maritime city and sits at the far eastern end of the Kiel Canal, the world's busiest artificial waterway, linking the Baltic Sea with the North Sea. It's a town with a tale.
See the sluice gates and mighty ships up close as they transit through the canal, and then hire a bicycle from the pier to cruise along the promenade and Kiel Fjord.
Queen Victoria will delight you with her special appeal, where elegance and unique features combine seamlessly with outstanding hospitality. You'll discover an extraordinary way to see the world.
Flights to Hamburg, Germany 
Prices & Dates - Northern Europe & Scandinavia (9 Nights)