Itinerary
Exclusions
Gallery
Dates & Prices
The 'Rose City' of Petra from Aqaba, and Naples's UNESCO-listed historic centre, coupled with the chance to visit Pompeii, are just the tip of this 20-night voyage sailing from the UAE to Europe.
Dates: 3rd - April 2023 
Itineraries
Day 1 (Embark)
Time : 12:00 am
Dubai
Dubai is full of fascinating contrasts and distinctive blends. Here you'll uncover Eastern and Western influences, extraordinary extravagance, stunning man-made resorts, and a culture that intrigues.
Days 2-3
Time : 9:00 am
Cruising (Day at sea)
Day 4
Time : 7:00 am
Salalah, Oman
Salalah is the largest city in the Sultanate of Oman, and its the birthplace of the Sultan Qaboos bin Said. Beyond the unique atmosphere the khareef provides, there is much more to see and experience.
As well as its lush green pastures, Salalah is renowned for its stunning collection of beaches, which feel almost Caribbean with their coconut trees and relaxed vibe. Try Al Mughsail Beach, a quiet and wild-feeling stretch of sand, full of caves and blowholes.
Days 5-8
Time : 8:00 am
Cruising (Day at sea)
Day 9
Time : 8:00 am
Petra (tours from Aqaba), Jordan
Inland from Aqaba and its world-renowned diving, lies the astonishing and ancient hidden city of Petra. Looming like a mirage that melts into the copper sandstone hills of the desert, it is a rare and magnificent delight.
Day 10
Cruising (Day at sea)
Day 11
Transit Suez Canal, Egypt (Cruise-By)
Following the 120-mile route between the Mediterranean and Red Sea, you'll mostly observe low-lying desert on each side. Keep an eye out for El Ferdan Railway Bridge, the world's largest swing bridge.
Days 12-13
Cruising (Day at sea)
Day 14
Naples, Italy
Sail into the beautiful Bay of Naples with its spectacular views of Capri and Ischia islands, and explore the wide choice of beautiful buildings, stunning parks and truly appetizing Italian eateries.
A visit to the Museo Archeologico Nazionale is an excellent way to spend time here. Among many unique and interesting items, you'll get to see mosaics rescued from the buried city of Pompeii.
Days 15-17
Cruising (Day at sea)
Day 18
Lisbon, Portugal
As the capital of Portugal, Lisbon triumphantly spreads its welcoming city atmosphere and its several impressive ancient sites over the seven steep hillsides that overlook the Tagus Estuary and River.
Days 19-20
Cruising (Day at sea)
Day 21
Southampton, UK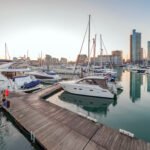 Located in the picturesque English county of Hampshire, Southampton is a vibrant waterfront city, serviced by direct trains to London, an airport, and an international cruise terminal. Explore the city's maritime heritage and links to RMS Titanic in the Sea City Museum, see contemporary British art in the Cultural Quarter, or walk the medieval walls in the Old Town, paying a visit to the Tudor House and Garden. Further afield you'll find The New Forest National Park, Winchester Cathedral, Stonehenge, Portsmouth Historic Dockyard and the Isle of Wight, while the city's thriving craft beer and culinary scene will leave you spoilt for choice when hunger strikes.
Prices & Dates - Middle East & Europe