Itinerary
Exclusions
Gallery
Dates & Prices
Combining time ashore in Namibia's Walvis Bay with the chance to unwind on Tenerife's exquisite mountain-backed beaches this 16-night voyage offers a blissful balance of relaxation and adventure.
Dates: 7th - 23rd April 2023
Itineraries
Days 1 -2
Time : 12:00 am
Cape Town, South Africa
Cape Town isn't just one of the most beautiful cities in the world – it's also circled by magnificent beaches, rugged mountains and idyllic vineyards, all located on the stunning shores of Table Bay.
Day 3
Time : 9:00 am
Cruising (Day at sea)
Day 4
Time : 7:00 am
Walvis Bay, Namibia
Known as the 'Diamond of Africa' Namibia is a country of stark beauty and contrasting landscapes. It has the world's oldest desert and highest sand dunes and a unique blend of cultures and traditions.
Between the sand dunes of the Namib Desert and the Atlantic Ocean, the large natural lagoon of Walvis Bay is home to a wide range of exotic birdlife.
Days 5-12
Time : 8:00 am
Cruising (Day at sea)
Day 13
Time : 8:00 am
Tenerife, Spain
Nestled in a natural harbour on the northeast coast of the island, the port sits less than a kilometre from the main town square, Plaza de Espana.
Its location makes it easy for you to branch off and experience the wonders that the island of Tenerife has to offer, but the port has an enchanting presence in itself too. It's full of brightly painted buildings and rich, historical architecture, as well as plentiful shops, restaurants, and cafes.
Days 14-16
Cruising (Day at sea)
Day 17
Southampton, UK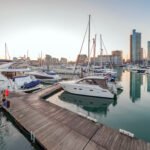 Located in the picturesque English county of Hampshire, Southampton is a vibrant waterfront city, serviced by direct trains to London, an airport, and an international cruise terminal. Explore the city's maritime heritage and links to RMS Titanic in the Sea City Museum, see contemporary British art in the Cultural Quarter, or walk the medieval walls in the Old Town, paying a visit to the Tudor House and Garden. Further afield you'll find The New Forest National Park, Winchester Cathedral, Stonehenge, Portsmouth Historic Dockyard and the Isle of Wight, while the city's thriving craft beer and culinary scene will leave you spoilt for choice when hunger strikes.
Flights to Cape Town, South Africa.
Prices & Dates - Africa & Europe 2023