About this trip
Details
Gallery
Inclusions
Free Time Add-Ons
Dates
Extra Info
Featuring
Athens, Corinth, Mycenae, Olympia and Delphi.
Accommodation
3 Nights – Hostel
Food
5 Meals Included
3 Breakfast
2 Dinner
Itineraries
Day 1
Arrive in Athens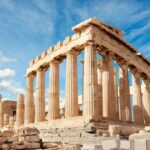 Welcome to Athens, Greek adventurers! The clock starts now on uncovering this ancient country and all its quirks. We're calling it now, that this trip is THE ancient history lovers dream. Settle in to your hotel before catching up with the crew, where a traditional Athens affair is on the cards for those wanting to get straight down to the business of being cultural. On our optional dinner we'll head to the city's old town and dinner, traditional dancing as you feast your eyes (and stomach) with mouthwatering Greek tastes, under the watchful eye of the Acropolis to complete the scene. We can't think of a better way to get right into the Greek way of life.
Day 2
Athens To Olympia Via Corinth And Mycenae
Athens
Not a second of today will go to waste. Europe's oldest city will unfold itself this morning as we take to the Parthenon and the Acropolis with the knowledge of a local, then explore the first modern Olympic Stadium from the 1896 Games. That's some really old Olympic vibes right there.
Corinth
Rugged mountains, cypress trees and citrus groves will pepper our pretty tour from Athens to Corinth, where we will stop to get a look at a man-made canal that squeezes ships through its tight cliffs in what seems like an impossible feat.
Mycenae
What was once a military hotspot is now a jaw-dropping archaeological site amidst the mountain ranges of Greece. Our Trip Manager will uncover the 4,000 year history of Mycenae and Agamemnon's Palace in a tale of heroics, myths and curses.
Olympia
And so the historical uncoverings continue as we land in Olympia, the place where the Olympic Games were birthed, and what is now a UNESCO World Heritage site.
Day 3
Olympia To Delphi
Olympia
Fun fact: the first Olympic Games was held in 776BC, let's just let that number sink in for a moment...Wow. Today our Local Guide will show us all the important sites of those games, giving you the chance to sit in the 45,000 seat stadium where it actually first took place. If that's not a spine-tingling moment, we don't know what is. We'll wrap it up at the Temple of Hera (Queen of the Greek Gods), and place where the Olympic flame is lit every four years. We'll also visit the ruins of Zeus' temple before we head off on our journey, where you'll be sure to feel the vibes of one of the most well known Greek gods.
Delphi
The sacred lands of Delphi will be ours this afternoon, again allowing us the chance to uncover world history right here in Greece. Despite being a place of monumental importance, it happens to have a cute little bar scene, and is a great place to sample the national drink of ouzo.
Day 4
Delphi To Athens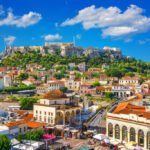 Delphi
Through the limestone columns of the Sanctuary of Apollo, we continue tapping into what was once the centre of the universe for Ancient Greeks. The remains of this Doric style building stands tall with it's remaining 6 (out of an original 15) pillars, and is the perfect spot to absorb the last bit of beauty that is the slopes of Mt. Parnassus before we jump on the trail back to Athens.
Athens
Well there you have it, the true scope of Greece's magnificence filed neatly into four incredible days. Walk away with a wealth of new knowledge and a new posse of friends, eager to get involved in yet another Contiki adventure.
• Visit the famous Plaka area
• See the awe-inspiring Acronafplia Citadel, Nafplio
• Guided tour of Mycenae, including the Palace of Agamemnon
• Locally guided tour of the awe-inspiring Ancient Greek monuments including entry to the Acropolis and Parthenon
• Guided tour including Olympic Stadium and Temples of Hera and Zeus
• See where the Ancient Greeks would go to speak with the Oracle in Delphi
What are Free Time Add-Ons?
Free Time Add-Ons will take your trip to a whole new level with unforgettable experiences unique to the places you visit. See more, do more, live more & go home completely regret-free. Costs for those aren't included in your trip cost & are payable to your trip manager in local currency.
A Traditional Athens Affair
25th July – 28th July 2022
• 5% STUDENT DISCOUNT!
• Other Dates/Destinations Available Upon Request.