Itinerary
Description
Gallery
Dates & Prices
Enjoy a beautiful 10 day sailing, on board the Jewel of the Seas.
Itineraries
Day 1 (Embark)
Date : 28/09/2022
Time : 5:00 pm
Athens (Piraeus), Greece
Athens offers a looking glass back in time into Greece's powerful ancient civilization. Art lovers, epicureans and history buffs will be delighted by the ancient ruins, museums and tavernas of this picturesque town. Just 10 minutes from the port, you'll find the Archaeological Museum of Piraeus, filled with sculptures from the Bronze Age to the Romans. Walk to the Zea Harbour to discover how the Hellenic Maritime Museum will bring to life the grandeur of ancient Greece's naval capacities. Jump onboard an Athens cruise and relax at the small harbor of Mikrolimano, enjoying a meal of grilled octopus and chilled white wine at a small restaurant overlooking the sea.
Day 2
Date : 29/09/2022
Time : 8:00 am
Santorini, Greece (tender)
Santorini is one of the world's most popular islands, known best for its dramatic scenery, whitewashed villages and fiery volcanic activity. Here adventure bubbles above the Aegean Sea in the most bold and breathtaking ways. A cable car takes you to the capital of Fira, a bustling cliff-top town awash with old cathedrals, enthralling museum collections and cosy tavernas. Venture to the coast for a swim in the deep blue waters that lap red and black pebbled beaches. And peel back layers of lava and history amongst excavated Akrotiri. Whether it's by bicycle, ATV or on your own two feet, exploring this Cyclades isle never fails to impress.
Day 3
Date : 30/09/2022
Time : 8:00 am
Day 3 - Olympia (Katakolon), Greece
Experience ancient history and modern charm in Katakolon, a vibrant cruise port on the Greek coast. From here, you can catch a glimpse of Olympia, the birthplace of the original Olympic games and a shrine to the ancient Greek gods. Cruise to Greece and walk through the Olympia complex to get a historical tour of architectural styles, from the classical ruins to the red-tiled roofs of the traditional homes. Then, stroll through the Katakolon's lively centre to discover unique local galleries and shops, and grab a seat at an oceanfront taverna with a glass of white wine and a dish of locally caught calamari.
Day 4
Date : 01/10/2022
Time : 9:00 am
Sicily (Catania), Italy
This plucky city on the Ionian sea is rich in folklore, history and beauty. Originally a Greek colony, Catania has been destroyed and rebuilt several times over. You'll find the city's symbol, the elephant, on everything from buildings to souvenirs across town. A wonderful combination of the modern and ancient, Catania's citizens tap into the black lava from Etna to grow rich vineyards for unique wines you can enjoy during your Sicily cruise.
Day 5
Date : 02/10/2022
Time : 9:00 am
Amalfi Coast (Salerno), Italy
The lively cliffside village of Salerno is a gateway to the many historical and scenic coastal towns with cruises to the Amalfi Coast. Take a stroll by the water along the city's modern promenade, or pop into a cafe for a refreshing limoncello. Break a sweat with a hike up Mount Vesuvius before you wander through the ancient city of Pompeii. Or take a drive along the coast on the winding roads, and bask in views of steep cliffs over crystal blue water.
Day 6
Date : 03/10/2022
Time : 11:00 am
Ajaccio, Corsica
Located just south of France on the island of Corsica, Ajaccio is rich in history and astonishing views, all set in the sun-drenched Mediterranean climate. Napoleon is Corsica's most recognisable historical personality – when you're strolling through town, make sure to visit the Maison Bonaparte Napoleon's family home and a historical museum. Pop into the beautiful Baroque-style Notre Dame Cathedral, where Napoleon was baptised. Here, you'll also find important artwork by Tintoretto and Delacroix. Cruise to Corsica and hop on Le Petit Train, or 'the little train', for a tour of town. For a taste of nature, head out to the Calanques de Piana, a range of dramatic red-rock cliffs.
Day 7
Date : 04/10/2022
Time : 12:00 pm
Palma De Mallorca, Spain
The Spanish island of Mallorca offers towering mountains and dramatic cliffs rising over clear, blue water – but its hidden gem is Palma de Mallorca, the island's capital and largest city, where you'll find quaint historic streets, Gothic castles and gastronomic delights. Cruise to Palma de Mallorca and check out one-of-a-kind Palma Cathedral: The 14th-century Gothic spires of exterior contrast the modernist interior designed by in the early 1900s by Gaudi. See the circular courtyard and Arab-inspired arches of Castell de Bellver, and take in the fresh scent of the miles of pine forest that surround it. Or hire bikes and pedal east to Palma Beach, where you can soak in the sun on the white sands and clear waves.
Day 8
Date : 05/10/2022
Time : 8:00 am
Ibiza, Spain
Ibiza is a legend among those who enjoy electronic music and mega-nightclubs. But this tiny speck off the coast of Valencia, Spain, has its fair share of natural beauty, local culture and delicious cuisine to delight visitors beyond party season and the neon walls of its clubs. Find Ibiza's mellower side in the old town of Dalt Vila, a UNESCO World Heritage Site — see the medieval fortress and castle of Castell de Eivissa, and behold the simple Gothic beauty of the Cathedral of Our Lady of the Snows. Jump onboard an Ibiza cruise to head to the white-washed villages of Santa Gertrudis and Santa Agnes to saunter through canopied squares full of quiet cafes and artists' galleries.
Day 9
Date : 06/10/2022
Time : 8:00 am
Valencia, Spain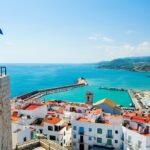 Spain's third largest city, Valencia offers a little bit of everything, from historic sites and bustling city squares to placid beaches. Soak up the sun at Malvarrosa Beach along the urban seafront, or head to El Saler for a more remote beach experience surrounded by white-sand dunes and pine trees. Cruise to Valencia and get your culture fix at Gothic Valencia Cathedral, and see the 15th-century renaissance paintings housed in its interior. Head to Plaza de la Reina in the city's old town and do some people-watching over a fresh glass of horchata, a classic Valencia drink made from tiger nuts with cinnamon and spices, or take a picnic lunch of fresh pears and local cheese to the quiet Turia Gardens.
Day 10 (Disembark)
Date : 07/10/2022
Barcelona (Tarragona), Spain
Tarragona provides a window into the soul of the Catalonia region. A stroll through its cobbled streets is like a walk back in time, as well as a survey of Catalan gastronomy. Explore the ruins of Tarraco, a UNESCO World Heritage site with an amphitheater that dates back to the Roman era, or the 12th-century Tarragona Cathedral, built on the site of a destroyed Moorish mosque. Or follow your taste buds along the Neoclassical Plaça de la Font, where dozens of cafes serve classic Spanish tapas and sangria as well as some specialties you'll only find in Tarragona.
Prices & Dates - Italy, Greece & France Cruise (9 Nights)